The COVID-19 vaccines are here and employees within the Department of Biomedical Informatics (DBMI) are signing up!
On Sunday, December 20, 2020, Yaa Kumah-Crystal, MD, Assistant Professor in DBMI and Pediatric Endocrinology, received her first COVID-19 vaccine injection. She described the experience as a "very smooth process."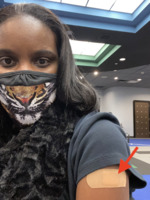 "After I responded to an email about my availability, I was given my time slot and location at the Children's Hospital Theater conference room," she explains. "When I went to get my shot, I was asked about any past allergies, filled out a card, and given vaccine information. The shot itself was super easy. It felt no different than getting a flu shot. You also get a cool sticker that says, 'I got my COVID-19 Vaccine!'"
Following her shot, she was asked to sit in a waiting area outside of the conference room for a total of 15 minutes so that the team could observe any potential side effects. During the brief observation period, she chatted with other participants about their thoughts on the experience.
"There was a general air of excitement and optimism with everyone. It was really cool," she says.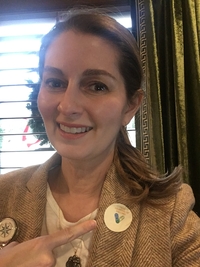 Elizabeth Brown, DBMI's Chief Business Officer who has been busy scheduling DBMI staff's vaccine appointments, received her first vaccine on Wednesday, December 30.
"The process was extremely well organized and easy," Ms. Brown explains. "I had the opportunity to hang out for 30 minutes due to medication allergies I have. The extra precaution was appreciated and I felt that there couldn't be a safer environment to receive the vaccine. Receiving the vaccine itself felt the same as the flu shot. I have had people ask if it was more painful and it wasn't at all."
Both Dr. Kumah-Crystal and Ms. Brown say they experienced minimal side effects. For Dr. Kumah-Crystal, it was only slight arm soreness immediately following the injection. "I feel great," she said on Wednesday, December 23. "I feel very optimistic that I'm contributing to the larger goal of herd immunity that will help keep others safe who are not able to get the vaccine."
They advise staff who are scheduled to get the vaccine to wear short-sleeved or loose-fitting long-sleeve shirts to their appointments so it's easier to receive the injection. "I saw some folks with tight long sleeves struggling to get them rolled all the way up!" says Dr. Kumah-Crystal. 
"Also, I hope folks will feel reassured to know that the vaccine had been evaluated in several thousands of individuals in the U.S. and internationally before it became available for us," she continues. "This has been an all-hands-on-deck operation and we have the greatest minds in science working to make sure we are all safe, including some of our own renowned researchers here at Vanderbilt.
"Thank you so much to Elizabeth Brown and crew and everyone else for your great work coordinating everything for us all. Looking forward to dose two in a few weeks!"
If you haven't done so already, enroll for the COVID-19 vaccine here. If you receive the vaccine and happen to take a selfie afterwards, upload your picture to Twitter and tag @vumcdbmi or email your picture with a brief description about your experience getting the vaccine to Mia Garchitorena, Communications Consultant at DBMI, at mia.garchitorena@vumc.org.