Next up in the series is one of our wonderful staff biostatisticians, Jennifer Morse, who shares more about her interests in the field and admits her guilty pleasure for Candy Crush Saga!  Read on to learn more . . .

What is your research focused on and what have been the major findings so far?
My interests include health policy, survival analysis and reproducible research. I currently have 2 collaborations: The Vanderbilt Center for Kidney Disease and Anesthesiology. In my collaboration with Nephrology, we are interested in looking at what leads to long term kidney disease. We've produced several abstracts and papers looking at the effects of factors such as medication use, exercise, and other demographic factors and patient history. In Anesthesiology, I've worked on several projects focused on inflammation and oxygen use during surgery and how those factors can have short-term and long-term outcomes that affect patient's health.

What was your draw to statistics and/or Vanderbilt and what has served as the  pathway to your current position? 
I was always interested in the intersection of math and medicine. In addition to my statistics degree, I also have a biomedical engineering undergraduate degree and a masters in informatics. Prior to joining this department, I was part of the Department of Anesthesiology, where I assisted in generating and analyzing data for clinical studies. I felt myself reaching the limits of my knowledge and pursued my masters degree at Texas A&M online while working full-time. I love being a biostatistician in this department.

What lessons have you learned from being a biostatistician?
One of the lessons I've learned so far is the importance of working with investigators to teach them that statisticians are more than just data analyzers at the end of a project but rather we should be viewed as a resource throughout the project. One of the most important roles of the statistician is to tease out the exact research question the investigator is interested in before rushing in to collect data.

What makes Vanderbilt special in your experiences of collaborating with others? What are your thoughts on controversial statistical topics such as the role of data science in the future, adjusting the p-value for multiple comparison, the choice between Bayesian, likelihood, or frequentists, ethical issues, etc.?
I love the collaborative environment and the opportunities for continuous education. I love hearing about what other collaborators are working on and the exciting research being produced by our teams. There is so much potential for data science to be used to advance medical research and make an impact in a variety of areas. In our department, there are many well-researched and passionate individuals who have strong opinions on controversial topics like those mentioned and I enjoy the rich discussions between those teaching and learning.

Tell us about your family and your life outside of Vanderbilt.
My husband and I are fully engrossed in all things Vanderbilt. We met as undergrads in the marching band. We are not only employees but alumni as well, and fans of all the sports programs. We have two young children, Carter and Ellie, who keep us busy and a puppy named Mango.
We love traveling! We make annual trips to visit our families in Hawaii and Florida and love exploring new places in the US and abroad. Our kids had passports before they were 1 and are already more well-traveled than many adults. Coming up this year, we have family trips planned to Hawaii, Japan, Jamaica and Greece! Always busy, but always having fun!
When in town, one my hobbies is trivia. Every year, I take the online jeopardy test to try and gain a spot on the show but haven't yet been successful. We've also been going to weekly bar trivia for over 10 years now. Lately, you can find our team "Toddlers in a Tavern" at Edley's or Crow's Nest around Nashville. My 3 year old recently got to contribute an answer for the first time and was so excited!

Finally, what is something about you that most people at Vanderbilt still don't know about you? (Until now, of course!)
I have a small (not really that small) addiction to the phone game, Candy Crush Saga, and have been playing for over 5 years. I've recently passed level 4000 and don't anticipate stopping until they kill the game.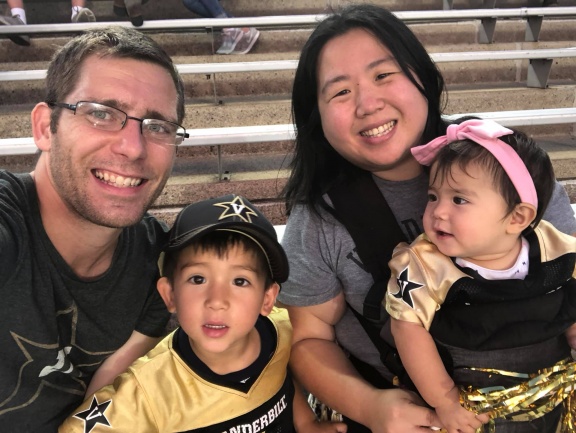 For our next featured member in the Spotlight  series, we talked to Jennifer Thompson, a Biostatistician IV in the Vanderbilt Department of Biostatistics, to learn more about her research and outside interests.  Read on and enjoy!


What is the focus of your research and what have been the major findings so far?
My primary work so far has been with the Vanderbilt Center for Critical Illness, Brain Dysfunction and Survivorship. We work to describe, understand, and improve in-hospital and long-term outcomes among patients and families who experience acute critical illness. The center currently has about ten principal investigators and an incredible support team, all doing multidisciplinary work in pulmonary/critical care, anesthesiology, psychiatry, trauma, and palliative care research.
In 2013, we published an NIH-funded cohort study which described the huge burden of cognitive impairment among survivors of critical illness and how brain dysfunction during that illness is a risk factor for worse outcomes. We are currently working on R01 grants which look at the efficacy of medications used to treat delirium in the ICU, and outcomes for the use of different sedatives in ICU patients.
We have also worked to understand the mechanisms and phenotypes of delirium in the medical and surgical ICUs, to characterize and look for risk factors for brain dysfunction in trauma patients, and look for predictors of frailty and long-term functional and cognitive problems in ICU survivors so that we can try to modify our care and improve their experiences.

What was your draw to statistics and what lessons have you learned from being a biostatistician?
I'm analytical and practical by nature, and declared a math major in college without too much thought as to what I would do after graduation. I was exposed to biostatistics through a summer internship at TVA (of all places!), and realized it would be a perfect way to apply my analytic skills to important problems. After I finished my master's at UNC-Chapel Hill, Vanderbilt was hiring and I was able to move back to Tennessee, my home state.
The lessons I've learned over the years have been enormous! Of course my statistical knowledge has grown immensely, but I've also learned how to manage timelines and projects and personalities, and to communicate with all kinds of people - some of whom care deeply about the statistical details, and some of whom care not at all. :) I love being part of a team that truly works together to solve important problems, and biostatistics and my work here has been a great way to do that.

What is your best advice for aspiring statisticians?
My best advice is to have a mindset that is open to continually learning new things, both about data science/statistics and the subject area you're working with. It didn't take me long out of graduate school to realize how little I didn't know yet! And with statistics and clinical research in general constantly evolving, you'll never be finished, which is a little overwhelming but also really exciting.
Also, I cannot overemphasize how important communication is to this field. Your statistical theory means nothing to a clinical researcher if you can't explain what the numbers and Greek letters actually mean - and in a way that you and they can then explain to their clinical colleagues so that your work can actually make an impact. Sometimes this looks like just writing an email or speaking up in a meeting; sometimes it's creating a clear, concise data visualization that gets your message across better than three paragraphs of a Results section ever could. Often it will be both.

What makes Vanderbilt special in your experiences of collaborating with others?
One thing I so appreciate about the group I work with is that my statistical teammates and I are considered to be part of the team, rather than technical consultants who hit a few buttons and give them some numbers to plug into their manuscript. That has so much benefit for both sides, and serves to not only make my work life more fulfilling, but also to make the science better.
I'm really excited about current movement in the direction of openness and transparency in research. It's been a bit slow going in clinical arenas compared to other areas, given the hugely important concerns about patient privacy as well as other considerations, but I hope that it will soon be expected practice to share analytical code, make statistical analysis plans obviously and transparently available, etc.

Tell us about your life outside of Vanderbilt.
I love to both travel as often as I can (most recently to Japan!), and have Nashville as a home base - this is such a great city undergoing so much transition right now, and I'm excited to be here to watch and participate in it. I'm lucky enough to also live close to five nieces and nephews who get as much of my attention as they'll allow.  Outside of work, I'll often be found hiking in one of the parks around town, spending time with my friends and community here, watching movies at the Belcourt or seeing just about anyone at the Ryman.

Finally, what is something about you that most people at Vanderbilt still don't know about you? 
I didn't see the original Star Wars movies until 2010, when I was unexpectedly snowed in with my family for Christmas and we watched the entire series in a SyFy marathon.