This week's Spotlight features one of our newer staff biostatisticians, Ahra Kim.  Learn how this Southern California native ventured East to Nashville for a great opportunity in research and is now learning to brave the winters, all while providing statistical support to her collaborators here at Vanderbilt.

Tell us about the research you are involved in.
I am involved with three collaborations here at Vanderbilt. Half of my time is spent working on projects with the Caribbean, Central and South America network (CCASAnet) for HIV epidemiology. It consists of HIV clinical sites from seven countries in Latin America, and is also a member of a larger consortium, International Epidemiologic Databases to Evaluate AIDS (IeDEA). In one study, we are comparing outcomes such as mortality, retention in care, and timing of antiretroviral therapy initiation in HIV infected adults with and without tuberculosis. We have recently submitted several abstracts to a conference and are currently working on additional analyses for manuscripts.

My two other collaborations are with the Department of Psychiatry and Center for Biomedical Ethics. For one project in Psychiatry, we are interested in assessing how catatonia and delirium affect survival in critically-ill patients. For Biomedical Ethics, we have been trying to better understand characteristics of patients needing ethical consults for controversial topics like organ donation or treatment decision making, as well as practice patterns of clinicians when it comes to these issues. I am grateful to be working on such a wide range of interesting projects.

What was your draw to statistics and/or Vanderbilt? 
I was drawn to statistics in a non-traditional way since I have a social science background. I enjoyed doing research, but many of my classes as an undergraduate involved secondary research and I wanted to do something more hands-on. I was fascinated when I took a course in biostatistics, which was my first exposure to learning R programming. This encouraged me to pursue a master's degree in biostatistics. Joining the Department at Vanderbilt was an amazing opportunity for me as a new graduate, so I relocated from California.
What lessons have you learned from being a biostatistician?
Though I haven't been a biostatistician for very long now, I've learned that being organized and transparent is key. Sometimes projects pause and resume months or even years later, so it's helpful to clearly document everything and practice reproducibility to avoid confusion and save time in the long run.

What makes Vanderbilt special in your experiences of collaborating with others?
The collaboration opportunities here have been wonderful. Everybody has been very kind and respectful, and view statisticians as valuable team members. I also appreciate the diverse resources and how there are so many experts in various fields that you can learn from, especially if you encounter a difficult problem in an area you may not be familiar with.

Tell us about your life outside of Vanderbilt. Do you have a significant other? What about your hobbies?
I have been engaged to my fiancé for almost a year now and will be getting married next spring. We both moved here from California. Outside of work, I enjoy a variety of hobbies including hiking, playing tennis, and practicing yoga. I also like to see live music performances, visit cool galleries or exhibits, and occasionally attend sporting events.

Finally, what is something about you that most people at Vanderbilt still don't know about you?
Prior to moving to Nashville, I lived in an inland region of Southern California (Inland Empire) where summer temperatures can reach highs of 116 degrees Fahrenheit. Winters are usually mild with highs in the 60s. Coming to Nashville, I was shocked to see temperatures drop to single digits last winter. Though I've been here for a year and half now, I still haven't acclimated fully to the cold!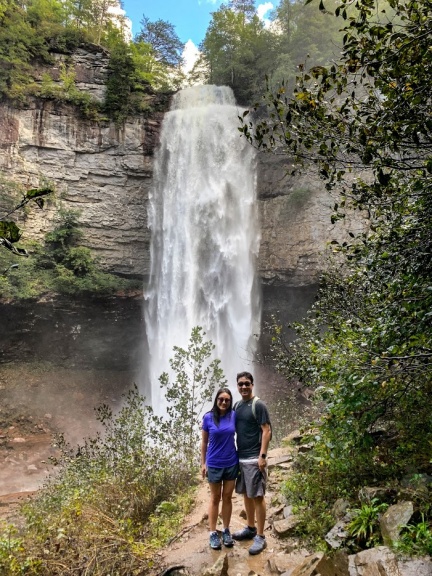 We have a new staff member onboard!  Elizabeth McNeer recently joined our group as a Biostatistician II.  Read on to learn more about her studies and interests here:

What is your area of focus?
I'm just starting out as a biostatistician, so I don't have much research experience yet. My master's thesis work under the direction of Dr. Dandan Liu focused on evaluating the impact of various chart review strategies using electronic health record data in the context of risk prediction modeling. I currently work with researchers in the Vanderbilt Center for Child Health Policy where I'm involved with various projects that focus on improving the well-being of children. I have ongoing projects dealing with topics such as hepatitis C testing in infants and mechanical ventilation in the neonatal intensive care unit.

What was your draw to statistics and/or Vanderbilt? What has served as the pathway to your position?
As an undergraduate, I majored in math and biology, so I wanted to find a career that would combine both of my interests. I also had an interest in the medical field, so the biology courses that I chose to take were the same courses that the pre-med majors took. During the summer after my junior year of college, I attended a Summer Institute for Training in Biostatistics program at Emory University. After this program, I knew that I wanted to pursue a graduate degree in biostatistics. I came to Vanderbilt in 2016 after graduating from Mississippi College, and I earned an MS in Biostatistics in the summer of 2018. Because of my interest in the medical field, I knew that I wanted to work at a medical center like Vanderbilt, so I'm excited to now be working in the same department where I spent two years as a student!

What makes Vanderbilt special in your experiences of collaborating with others?
I've found that my collaborators treat me like a valuable part of the group and want me involved in the entire project, not just the parts involving statistical analysis. My collaborators value the work that I do, which makes coming to work enjoyable. I've also been encouraged to continually learn and apply new skills to the projects that I work on.

Tell us about your life outside of Vanderbilt.
After being in school most of my life, I'm really enjoying not having constant homework and studying to do! I enjoy reading, watching Netflix, playing board games, and hiking every once in a while. I attend The Church at Avenue South, and I also tutor math on the weekends. Also, I very much enjoy Jeni's ice cream.

Finally, what is something that most people at Vanderbilt still don't know about you?
Long before I took my first statistics class or knew I would have a career in statistics, my dad bought me a baseball score book and showed me how to keep baseball statistics. In elementary and middle school, I would keep stats for my brother's Little League teams just for fun. Keeping stats helped me understand and appreciate baseball, and I still enjoy going to an occasional baseball game.
For our next featured member in the Spotlight  series, we talked to Jennifer Thompson, a Biostatistician IV in the Vanderbilt Department of Biostatistics, to learn more about her research and outside interests.  Read on and enjoy!


What is the focus of your research and what have been the major findings so far?
My primary work so far has been with the Vanderbilt Center for Critical Illness, Brain Dysfunction and Survivorship. We work to describe, understand, and improve in-hospital and long-term outcomes among patients and families who experience acute critical illness. The center currently has about ten principal investigators and an incredible support team, all doing multidisciplinary work in pulmonary/critical care, anesthesiology, psychiatry, trauma, and palliative care research.
In 2013, we published an NIH-funded cohort study which described the huge burden of cognitive impairment among survivors of critical illness and how brain dysfunction during that illness is a risk factor for worse outcomes. We are currently working on R01 grants which look at the efficacy of medications used to treat delirium in the ICU, and outcomes for the use of different sedatives in ICU patients.
We have also worked to understand the mechanisms and phenotypes of delirium in the medical and surgical ICUs, to characterize and look for risk factors for brain dysfunction in trauma patients, and look for predictors of frailty and long-term functional and cognitive problems in ICU survivors so that we can try to modify our care and improve their experiences.

What was your draw to statistics and what lessons have you learned from being a biostatistician?
I'm analytical and practical by nature, and declared a math major in college without too much thought as to what I would do after graduation. I was exposed to biostatistics through a summer internship at TVA (of all places!), and realized it would be a perfect way to apply my analytic skills to important problems. After I finished my master's at UNC-Chapel Hill, Vanderbilt was hiring and I was able to move back to Tennessee, my home state.
The lessons I've learned over the years have been enormous! Of course my statistical knowledge has grown immensely, but I've also learned how to manage timelines and projects and personalities, and to communicate with all kinds of people - some of whom care deeply about the statistical details, and some of whom care not at all. :) I love being part of a team that truly works together to solve important problems, and biostatistics and my work here has been a great way to do that.

What is your best advice for aspiring statisticians?
My best advice is to have a mindset that is open to continually learning new things, both about data science/statistics and the subject area you're working with. It didn't take me long out of graduate school to realize how little I didn't know yet! And with statistics and clinical research in general constantly evolving, you'll never be finished, which is a little overwhelming but also really exciting.
Also, I cannot overemphasize how important communication is to this field. Your statistical theory means nothing to a clinical researcher if you can't explain what the numbers and Greek letters actually mean - and in a way that you and they can then explain to their clinical colleagues so that your work can actually make an impact. Sometimes this looks like just writing an email or speaking up in a meeting; sometimes it's creating a clear, concise data visualization that gets your message across better than three paragraphs of a Results section ever could. Often it will be both.

What makes Vanderbilt special in your experiences of collaborating with others?
One thing I so appreciate about the group I work with is that my statistical teammates and I are considered to be part of the team, rather than technical consultants who hit a few buttons and give them some numbers to plug into their manuscript. That has so much benefit for both sides, and serves to not only make my work life more fulfilling, but also to make the science better.
I'm really excited about current movement in the direction of openness and transparency in research. It's been a bit slow going in clinical arenas compared to other areas, given the hugely important concerns about patient privacy as well as other considerations, but I hope that it will soon be expected practice to share analytical code, make statistical analysis plans obviously and transparently available, etc.

Tell us about your life outside of Vanderbilt.
I love to both travel as often as I can (most recently to Japan!), and have Nashville as a home base - this is such a great city undergoing so much transition right now, and I'm excited to be here to watch and participate in it. I'm lucky enough to also live close to five nieces and nephews who get as much of my attention as they'll allow.  Outside of work, I'll often be found hiking in one of the parks around town, spending time with my friends and community here, watching movies at the Belcourt or seeing just about anyone at the Ryman.

Finally, what is something about you that most people at Vanderbilt still don't know about you? 
I didn't see the original Star Wars movies until 2010, when I was unexpectedly snowed in with my family for Christmas and we watched the entire series in a SyFy marathon.