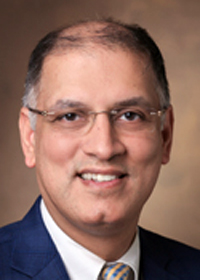 Madan Jagasia, M.B.B.S., M.S.
Professor of Medicine of Hematology/Oncology
Director, Outpatient Transplant Program
Section Chief, Hematology and Stem Cell Transplant
Co-Leader, Translational Research and Interventional Oncology Research Program
3927 TVC (5505)
1301 22nd Avenue, South
Nashville
Tennessee
37232-5505
Hematologic malignancies, stem cell transplantation, leukemia, lymphoma
Dr. Jagasia is an integral part of the long-term transplant clinic with a singular focus on delivering efficient and effective care to the transplant patient. His primary research interest is graft-versus-host disease (GVHD), an immune complication of allogeneic stem cell transplantation.
As a clinical investigator, he is actively trying to identify non-HLA genetic factors that predict development of both acute and chronic GVHD. The development of biomarkers that predict for type of organs affected with GVHD along with response to therapy is an important aspect of his research. He is actively involved in clinical trials targeting various manifestations of chronic GVHD, and is the site principal investigator for the national chronic GVHD consortium.
Dr. Jagasia received his MBBS from King Edward Memorial College in Mumbai, India.  He received his fellowship training at Vanderbilt University in hematology-oncology.  He pursued his Masters of Science in Clinical Investigation at Vanderbilt from 2004-2006.
Dr. Jagasia has authored and co-authored more than 80 research articles in peer reviewed-journals such as Blood, Journal of Clinical Oncology, Bone Marrow Transplantation and Biology of Blood and Marrow Transplantation. He has served as a reviewer for many of these journals. He is a member of the GVHD and Leukemia working committees for the of International Blood and Marrow Transplant Center.
"The interface of the  electronic medical record with the Diagnostic Management Team approach makes Diagnostic Mentor seamless, and allows the busy clinician to have a wealth of information about patients at their fingertips. I use it not only to make clinical decisions, but as a visual aid to explain the disease process to the patient."
Research Description
Dr. Madan Jagasia, M.B.B.S, M.S. is the director of the Out Patient Transplant Program. He specializes in stem cell transplant for hematological malignancies (leukemia, lymphoma, Myeloma, MDS) and bone marrow disorders. His research interest is graft-versus-host disease, an immune complication after a donor stem cell transplant. He established the long term transplant clinic (LTTC). The goal of this clinic is to provide state-of-the-art care to patients and co-ordinates then care with consultants and the primary referring oncologist. This clinic currently follows more than 500 patients. He is a clinical investigator with a focus on therapy and prevention of acute and chronic GVHD.
Publications on