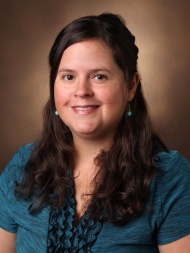 Dolly Ann Padovani- Claudio, M.D., Ph.D.
Assistant Professor of Ophthalmology and Visual Sciences
Vascular diseases of the retina
Dr. Padovani-Claudio is an Assistant Professor of Ophthalmology and Visual Sciences at Vanderbilt University Medical Center. She is a board certified ophthalmologist and member of the American Academy of Ophthalmology and the American Association for Pediatric Ophthalmology and Strabismus. She practices at the Tennessee Lions Eye Center at the Vanderbilt Eye Institute. Dr. Padovani-Claudio's was born and raised in Puerto Rico where she earned a bachelor degree in Industrial Biotechnology, with honors, from the Mayagüez campus of the University of Puerto Rico. She then earned M.D. and Ph.D. (Neuroscience) degrees from Case Western Reserve University (CWRU) as part of its Medical Scientist Training Program. She subsequently obtained ophthalmology residency and pediatric ophthalmology and strabismus fellowship training at the University of Michigan's W. K. Kellogg Eye Center. Throughout her training, she has been recognized for her patient care and teaching with awards such as the Arthur P. Gold Foundation, Gold Humanism and Excellence in Teaching Award at CWRU and the Resident Teaching Award at the Kellogg Eye Center. In addition, she has received multiple awards for her research at every stage of her training.
She was selected as an Emerging Vision Scientist by the National Alliance for Eye and Vision Research (NAEVR) and is a steering committee member of Women On Track at Vanderbilt. She is also a member of the Association for Research in Vision and Ophthalmology (ARVO) - Diversity Initiatives Committee and a graduate of the Leadership Development Program for Women at ARVO and the Junior Faculty Leadership Development Program at Vanderbilt.  She has co-authored peer-reviewed articles in journals including Nature Neuroscience and the Proceedings of the National Academy of Science.  Her research is funded by the NIH and the Knights Templar Eye Foundation.
Research Information
Dr. Padovani-Claudio's laboratory is focused on finding new treatments for diabetic retinopathy, a leading cause of vision loss and blindness. Due to the growing incidence of obesity and diabetes in the pediatric population an increase in the prevalence of complications associated with diabetic retinopathy is expected. Her research centers on understanding processes that promote inflammation and vascular growth in the retina, and on repurposing existing drugs developed to target these processes in non-ocular systems to prevent, abort or revert them in diabetic retinopathy. She hopes that repurposing such drugs will bypass the costly, lengthy, and risky drug development process and accelerate the translation of her research to effective therapies for patients with blinding conditions.
Publications on