With the need for hand sanitizer not going away any time soon, it may be tempting to pick some up from a manufacturer with enticing bottles or your favorite scent. However, your boring, clear, unscented hand sanitizer is likely the safest. Hand sanitizer is being packaged in containers resembling water bottles, vodka bottles, beer cans, snack bags, and other food and drink products plastered with fan favorite cartoons. Some have food flavors such as raspberry or chocolate—some containers are even plastered with candy labels leading to unintentional pediatric poisonings.
Hand Sanitizer Infographic: PDF
As of October 18th, poison control centers nationally have managed 30,042 exposure cases in comparison to 17,301 in 2019.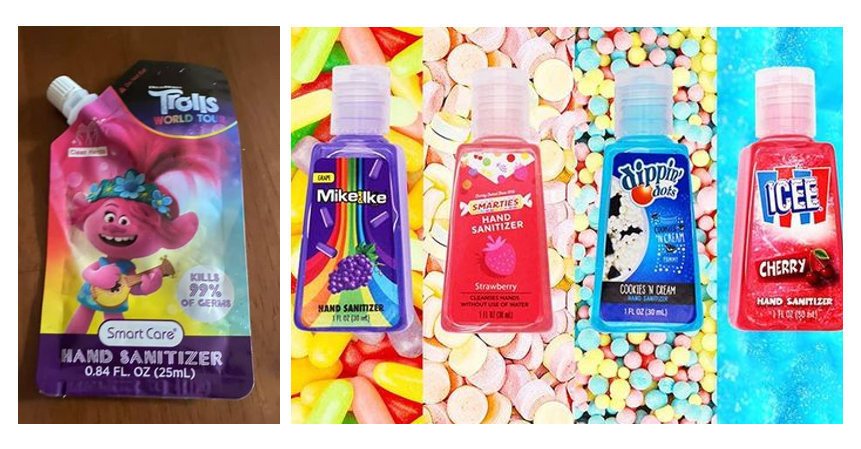 Adults aren't immune from accidental ingestions either, as some distilleries are producing hand sanitizer in beer cans or wine bottles. While it is honorable that some are offering for free or a reduced price, remember to store in a child proof location separate from other drinking alcohol to protect adults and children alike.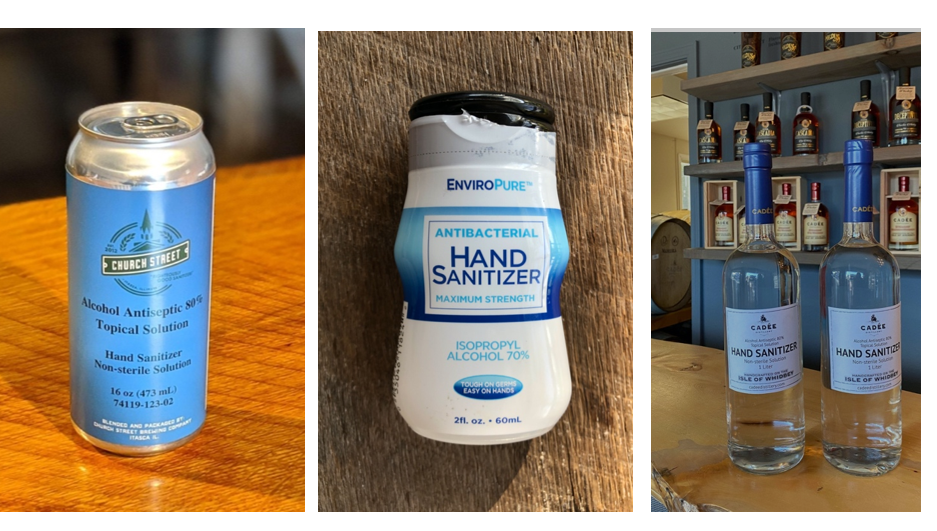 So, what if my child or an adult accidentally ingests hand sanitizer? Most are produced from ethanol (ethyl alcohol), isopropanol (isopropyl alcohol) or benzalkonium chloride (a detergent). Drinking alcohol-based hand sanitizers can cause intoxication and coma. Ethanol-based products in particular can cause low blood sugar which can lead to seizure in children. The danger of drinking hand sanitizer has typically been equal to ingesting other types of household alcohols, until June 2020 when the FDA began identifying products containing methanol (methyl alcohol).
Even a very small amount of methanol can cause blindness and death and the back of your bottle won't include methanol as an ingredient. To check to see if your hand sanitizer is on the do not use list, go to www.fda.gov/handsanitizerlist
There is currently a total of 202 products deemed unsafe by the FDA. Reasons include containing methanol or 1-propanol, appearing similar to food products, microbial contamination, or sub potency.
References:
https://www.fda.gov/consumers/consumer-updates/your-hand-sanitizer-fdas-list-products-you-should-not-use

Yip L, Bixler D, Brooks DE, et al. Serious Adverse Health Events, Including Death, Associated with Ingesting Alcohol-Based Hand Sanitizers Containing Methanol — Arizona and New Mexico, May–June 2020. MMWR Morb Mortal Wkly Rep 2020;69:1070–1073.

 

National Poison Data System, American Association of Poison Control Centers

https://aapcc.org/track/hand-sanitizer
Prepared by Elizabeth Keiner, MD, Pediatric Emergency Medicine Fellow,
Monroe Carrell Jr. Children's Hospital at Vanderbilt
The contents of hand sanitizers and the potential for toxicity continues to be a question asked by callers when calling the Tennessee Poison Center.  This Question of the Week addresses the main concerns. Also, attached is a great infographic which succinctly outlines the issues and approach. This graphic was designed by Elizabeth A. Burnham, Pharm D candidate 2021, Lipscomb College of Pharmacy. Great piece to display where patients can see it (or even distribute to them). -ds
I am interested in any questions you would like answered in the Question of the Week.  Please email me with any suggestion at donna.seger@vumc.org.
Donna Seger, MD
Executive Director
Tennessee Poison Center
Poison Help Hotline: 1-800-222-1222