Beta blockers competitively inhibit myocardial β1 receptors. These receptors normally act through a second messenger system (Gs proteins*) to activate adenyl cyclase (AC) and increase cyclic AMP (cAMP), which results in the influx of intracellular calcium through L-type calcium channels. β1-receptor antagonism results in decreased calcium entry and, subsequently, decreased inotropy and chronotropy. 
Glucagon, a polypeptide counterregulatory hormone secreted from the pancreatic α-cells, bypasses β-receptors to exert inotropic and chonotropic cardiac effects. Similar to β-receptors, cardiac glucagon receptors are coupled to Gs proteins. Glucagon binding to these receptors results in increased adenylyl cyclase activity independent of β-receptor activity.
We recommend giving glucagon as a 10 mg bolus over 10 minutes. Giving the bolus more quickly increases risk for vomiting. Glucagon has a short half-life and the bolus should be followed by a continuous infusion at 3-5 mg/hr.
Glucagon may also be considered in other cases of drug-induced bradycardia.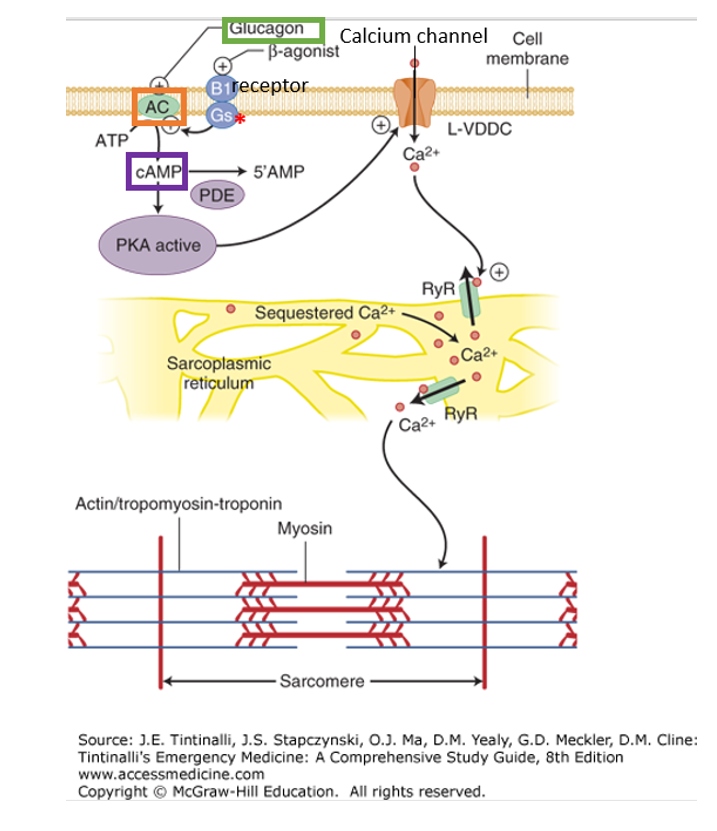 References
DeWitt, C.R. and J. C. Waksman (2004). "Pharmacology, pathophysiology and management of calcium channel blocker and beta-blocker toxicity." Toxicol Rev 23(4): 223-238.
Graudins, A., et al. (2016). "Calcium channel antagonist and beta-blocker overdose: antidotes and adjunct therapies." Br J Clin Pharmacol 81(3): 453-461.
Nelson, L.S., Lewin N.A., Howland, M.A. (Eds.), et al. Goldfrank's toxicologic emergencies 9th edition (McGraw-Hill Education, New York, 2011).
Shepherd, G. (2006). "Treatment of poisoning caused by beta-adrenergic and calcium-channel blockers." Am J Health Syst Pharm 63(19): 1828-1835.
This question prepared by: Cosby Arnold MD, UT Emergency Medicine Resident
I am interested in any questions you would like answered in the Question of the Week.  Please email me with any suggestion at donna.seger@vumc.org
Donna Seger, MD
Executive Director
Tennessee Poison Center
Poison Help Hotline: 1-800-222-1222