Glucagon is a hormone secreted from pancreatic alpha cells. It has inotropic and chronotropic cardiac effects. When the beta receptor is stimulated, cAMP is increased and calcium influx (via L-type calcium channels) also increases. When the beta receptor is blocked, glucagon stimulates the same subcellular protein to increase cAMP production and increase calcium influx.
Glucagon administration is indicated for hypotension, bradycardia or conduction impairment. It may also be effective in treating hypotension in calcium channel blocker and other overdoses with cardiac toxicity.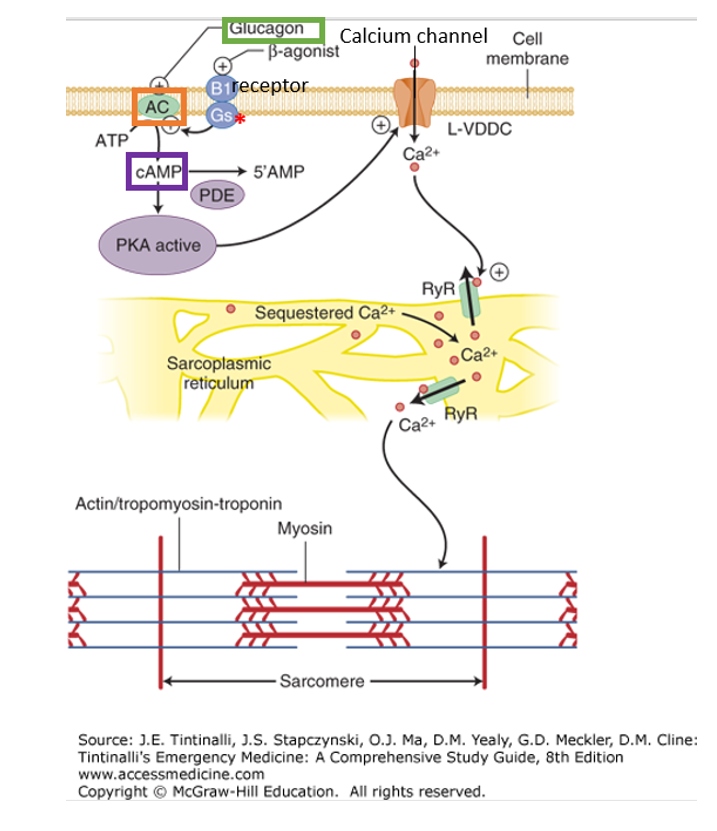 IF dose is too high or pushed IV too fast, the patient will vomit.  A bolus of 5-10 mg (150 mcg/kg) given over 10 minutes is less likely to have this side effect. Glucagon's half-life is 6 minutes so a continuous infusion of 3 mg/hr (50-100 mcg/kg/hr) should follow this bolus. 
References:
DeWitt C. R., Waksman J. C. Pharmacology, pathophysiology and management of calcium channel blocker and β-blocker toxicity. Toxicological Reviews. 2004;23(4):223–238. doi: 10.2165/00139709-200423040-00003.
Olson, Kent Russell. Poisoning & Drug Overdose. New York: McGraw-Hill Medical, 2007. Print.
Submitted by Peter Jones, M.D. Pediatric Emergency Medicine Fellow, University of Tennessee Health Science Center
I am interested in any questions you would like answered in the Question of the Week.  Please email me with any suggestion at donna.seger@vanderbilt.edu

Donna Seger, MD
Medical Director
Tennessee Poison Center
www.tnpoisoncenter.org
Poison Help Hotline: 1-800-222-1222