Fentanyl and fentanyl-analogs are powerful synthetic opioids that pose an increasing public health threat. From 2012 through 2014, the number of reported deaths involving fentanyl more than doubled (from 2628 to 5544), and it is estimated that 41% of the 7100 heroin-related deaths during that period involved fentanyl. The increasing use of fentanyl reflects the drug's potency (50-100 times more than morphine) and cheap production costs. Heroin costs approximately $65,000 per kilogram, while illicitly manufactured fentanyl is available at $3,500 per kilogram. Therefore, distributors face strong incentives to mix fentanyl-derivatives with heroin and other street drugs to significantly reduce overhead.
Below is a select list of toxicologically important fentanyl analogs and their brief descriptions.

Alpha-Methylfentanyl
Schedule: I (illicit)
Potency (morphine): unknown
Alpha-methylfentanyl appeared on the illicit market in the late 1970s as a mixture with heroin known as China White. It was first identified in the bodies of two overdose victims in Orange County, California then confirmed responsible for 13 more fatalities later that year.

3-Methylfentanyl (3-MF)
Schedule: I (illicit)
Potency (morphine): 400 to 6000
3-MF appeared on the illicit market shortly after alpha-methylfentanyl an alternative ingredient in China White. However, it quickly became apparent that 3-MF was much more dangerous as its highly variable potency was dependent on which isomer was predominant in the mixture.

Acetylfentanyl (Acetyl Fentanyl)
Schedule: I (illicit)
Potency (morphine): 15
Acetylfentanyl was first synthesized at the same time as fentanyl and had only rarely been encountered on the illicit market until the early 2010s. In July 2015, the DEA reported 52 confirmed fatalities involving acetylfentanyl in the United States between 2013 and 2015.

Carfentanil (4-carbomethoxyfentanyl)
Schedule: II (controlled)
Potency (morphine): 10,000 to 100,000
Uses: veterinary tranquilizer, weapon of mass destruction
Carfentanil's sole approved-use is by veterinarians to incapacitate large exotic animals (i.e. elephants, rhinoceroses, polar bears) for examination and procedures. In 2012, a team of researchers with the British Ministry of Defense published a study that found carfentanil and remifentanil in the clothing of two and urine of another survivor of the 2002 Moscow theater hostage crisis. The study concluded that these fentanyl analogs were the active ingredients of the knockout gas that Russian Special Forces used to subdue the Chechen hostage takers. Approximately 125 hostages exposed to the gas used in the rescue attempt were confirmed to have died from subsequent respiratory failure. On 19 April 2017, Metro-Nashville narcotics detectives and U.S. Post Office inspectors intercepted a packet that contained 140mg of carfentanil, enough lethal doses to kill thousands of people.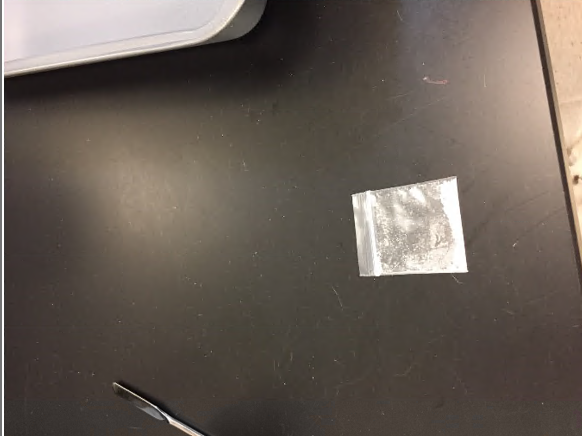 Carfentanil shipment intercepted by Metro-Nashville Police Department (2017)

Remifentanil
Schedule: II (controlled)
Potency (morphine): 100 to 200
Uses: anesthesia adjunct, weapon of mass destruction
Remifentanil is a short-acting fentanyl analog that is used in combined sedation regimens. Unlike other opioids, remifentanil undergoes rapid elimination by non-specific tissue and plasma esterases which avoids drug accumulation and allows its effects to quickly dissipate even after very long infusions. It is hypothesized that during the 2002 Moscow theater hostage crisis, carfentanil may have been mixed with the shorter-acting remifentanil in an attempt to lessen the number of fatalities that would have otherwise resulted from exposure to carfentanil alone.

This question prepared by: Justin Loden, PharmD, CSPI (Certified Specialist in Poison Information)

References
1.    Frank RG, Pollack HA. Addressing the fentanyl threat to public health. N Engl J Med. 2017 Feb 16; 376(7):605-7.
2.    Gillespie TJ, Gandolfi AJ, Davis TP, et al. Identification and quantification of alpha-methylfentanyl in post-mortem specimens. J Anal Toxicol. 1982 May-Jun; 6(3):139-42.
3.    Gladden RM, Martinez P, Seth P. Fentanyl law enforcement submissions and increases in synthetic opioid-involved overdose deaths – 27 states, 2013-2014. MMWR Morb Mortal Wkly Rep. 2016 Aug 26; 65(33):837-43.
4.    Higashikawa Y, Suzuki S. Studies on 1-(2-phenethyl)-4-(N-propionylanilino)piperidine (fentanyl) and its related compounds. VI. Structure-analgesic activity relationship for fentanyl, methyl-substituted fentanyls and other analogues. Forensic Toxicol. 2008 June; 26(1):1-5.
5.    Metro Government of Nashville & Davidson County, Tennessee. Lethal carfentanil seized by MNPD narcotics detectives & U.S. postal inspectors. 19 Apr 2017. https://www.nashville.gov/News-Media/News-Article/ID/6327/Lethal-Carfen…
6.    Mounteney J, Giraudon I, Denissov G, et al. Fentanyls: are we missing the signs? Highly potent and on the rise in Europe. Int J Drug Policy. 2015 Jul; 26(7):626-31.
7.    Riches JR, Read RW, Black RM, et al. Analysis of clothing and urine from Moscow theatre siege casualties reveals carfentanil and remifentanil use. J Anal Toxicol. 2010 Nov-Dec; 36(9):647-56.
8.    Stogner JM. The potential threat of acetyl fentanyl: legal issues, contaminated heroin, and acetyl fentanyl "disguised" as other opioids. Ann Emerg Med. 2014 Dec; 64(6):637-9.
9.    Wax PM, Becker CE, Curry SC. Unexpected "gas" casualties in Moscow: a medical toxicology perspective. Ann Emerg Med. 2003 May; 41(5):700-5.
Welcome to those of you who have not previously received our "Question of the Week". This question is prepared by poison specialists, Pediatric Emergency medicine fellows/other residents rotating on the Toxicology service, guest authors, and myself. The distribution is greater than 2,500. If you have any topics that you would like addressed, please send them to me at donna.seger@vanderbilt.edu

Donna Seger, MD
Medical Director
Tennessee Poison Center
www.tnpoisoncenter.org
Poison Help Hotline: 1-800-222-1222