There is a great deal of information in this Question.  Note that acuity of overdoses is increasing. It will be interesting to see if this trend continues as heroin becomes more popular.  ds

Tennessee Poison Center, as member of the American Association of Poison Control Centers (AAPCC), provides free medical management services to both healthcare professionals and the general public on a wide range of calls.  Data from all US poison centers is uploaded in real-time to the National Poison Data Surveillance (NPDS). Since 2003, TN Poison Center has also been participating in the nation-wide RADARS system surveillance program, (Researched Abuse, Diversion and Addiction related Surveillance) managed by Rocky Mountain Poison & Drug Center (RMPDC), on the use abuse and misuse of opioid drugs and other prescription drugs. The RADARS program collects data from 50 regional US poison centers and covers 93% of the US population. This data provides the earliest national view of emerging patterns of prescription opioid use and abuse, and aids in the development of effective interventions. Calls made to the poison center of intentional and unintentional exposure mentions relating to prescription drugs included in the study are submitted weekly to RADARS. This data which is geographic and product specific and is analyzed per population and per number of prescriptions filled. 

National trends:
Recent trends have revealed a persistent decline in prescription drug abuse cases reported to Radars. In this context, national poison center data was analyzed for the time period 2009-2015 by classifying into two major types: information and exposure calls. Figure 1 shows that over the last six years there has been a steady decline in information calls to US Poison Centers (with traffic most likely directed to the internet) leading to the observed decline in overall call volume to US poison centers.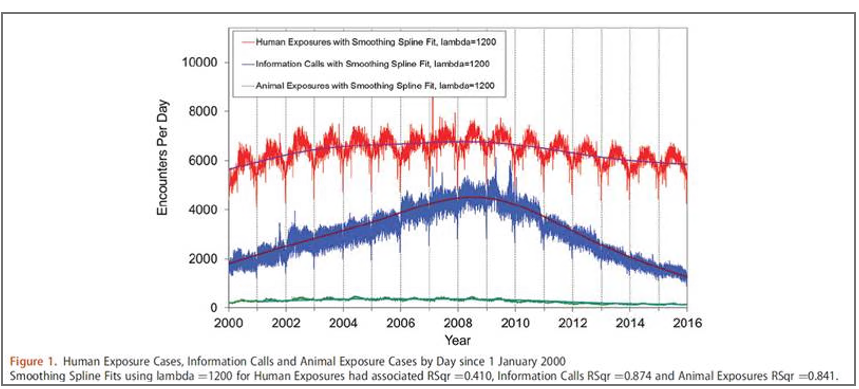 Among exposure calls, data was further analyzed by pharmaceutical vs non-pharmaceutical substances involved and reviewed for both children and adults. Figure 2 shows that pharmaceutical and non-pharmaceutical calls have decreased for children over the years, whereas, non-pharmaceutical exposure cases decreased only slightly for adults. However, pharmaceutical exposure calls among adults have experienced smaller year-to-year variation and even showed slight increases in two years of the study.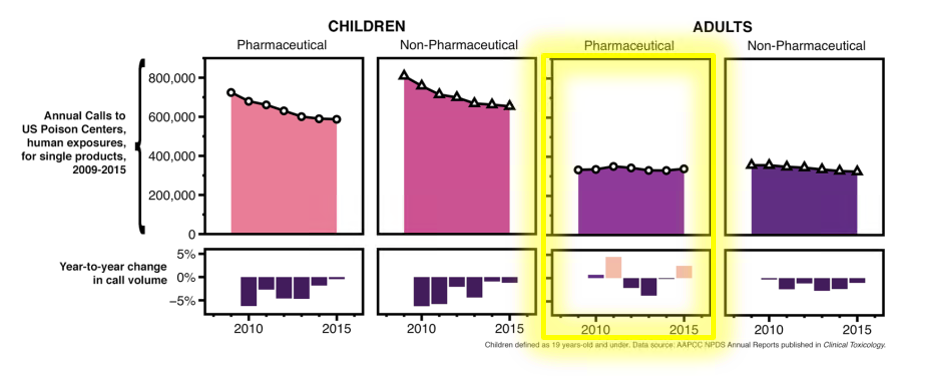 Figure 2: US Poison Center Exposure Calls for Children and Adults.  
Tennessee Trends:
TN poison center data analysis of pharmaceutical exposure calls leading to treatment at a health care facility has shown a continued increase in numbers over the last four years (Figure 3). In addition, the medical outcome of patients as a result of the exposure has shown an increasing trend towards moderate (pronounced systemic effects), major (life threatening effects) and death.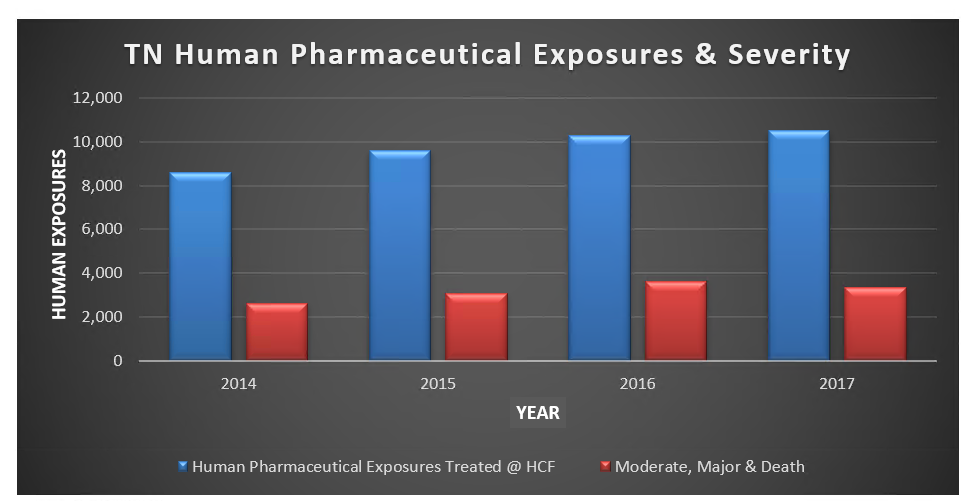 Figure 3: TN PCC pharmaceutical exposure calls.
TN poison center Radars call volume has remained fairly steady, with only a slight decline noted over the last two years. Figure 4 shows Radars call numbers at TN Poison Center from 1st quarter of 2014 to 4th quarter 2017.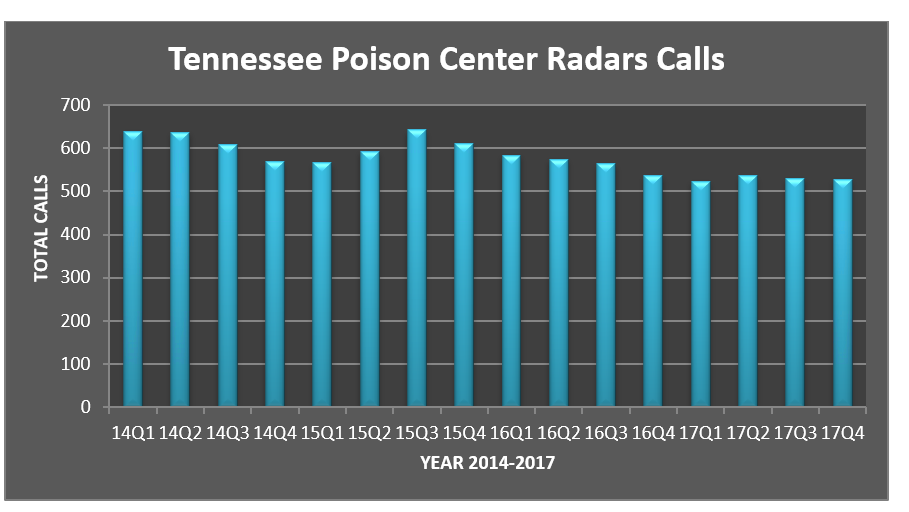 Figure 4: TN PCC Radars calls
While recent national trends have revealed a decline in overall poison center call volume, TN poison center exposure calls have remained steady, with a continuing increase in pharmaceutical exposure calls and an associated increase in the acuity of calls managed. This developing trend requires continuous monitoring.
References:
http://www.radars.org/home2/research/currentnewsletterandtechnicalrepor…
Dasgupta N, Bailey JE, Dart RC (2017). Implications of Declining Poison Center Case Volume on Drug Abuse Trend Monitoring. RADARS® System Technical Report, 2017-Q3
This Question was prepared by Suparna Kumar, CSPI, Radars Coordinator
I am interested in any questions you would like answered in the Question of the Week.  Please email me with any suggestion at donna.seger@vanderbilt.edu

Donna Seger, MD
Medical Director
Tennessee Poison Center
www.tnpoisoncenter.org
Poison Help Hotline: 1-800-222-1222

The Question of the Week is available on our website: www.tnpoisoncenter.org