Background: Prior to February 2004, the Southern Poison Center in Memphis provided poison control coverage for west Tennessee and part of east Tennessee from 7am-11pm. Upon their closure on January 30, 2004, the Middle Tennessee Poison Center began providing service to the entire state 24 hours/day, 7 days/week based on an agreement with the Tennessee Department of Public Health. Middle Tennessee Poison Center was renamed the Tennessee Poison Center to reflect the statewide coverage.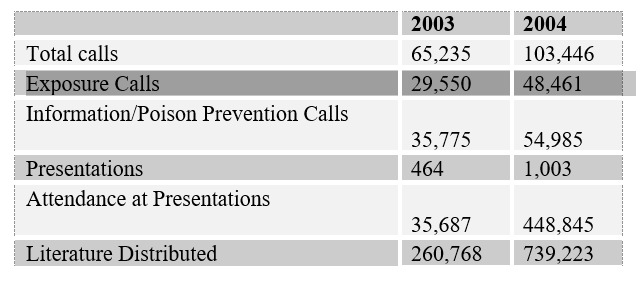 Throughout 2004, the Tennessee Poison Center added additional phone lines and increased staffing on the hotline to meet the increase in call volume.  Tennessee Poison Center now has thirteen specially trained nurses, pharmacists and physicians answering calls on the Poison Help hotline.  Collaboration with the UT Agricultural Extension Educators throughout Tennessee has enhanced our ability to provide quality poison prevention programs to residents in all 95 counties.
Tennessee Poison Center is now the 7th busiest Poison Center in the United States.
Tennessee Poison Center looks forward to continued growth and service to the residents of Tennessee in 2005.
Thanks to Kim Barker, Managing Director of the Poison Center, for the Question of the Week.
As always, if there are any questions, call the Tennessee Poison Center at 1-800-222-1222.
I am interested in any questions that you would like answered in the Question of the Week. Please email me with any suggestions at donna.seger@vanderbilt.edu.
Donna Seger, M.D.
Medical Director, Tennessee Poison Center