Electronic cigarettes are also known as e-ciggs and electronic nicotine delivery system. This rechargeable or battery operated device uses a heating element to vaporize liquid containing nicotine or flavors for inhalation. This process of turning the liquid into a vapor is the origin of the term "vaping".  The e-ciggs are manufactured to resemble regular cigarettes, cigars, pipes and items like pens and USB devices. Several of the e-ciggs are advertised to be nicotine-free. However, the FDA testing revealed e-cigs advertised as nicotine-free, were not. They amount of nicotine varies from 0 to 24 mg/mL of solution. The flavoring agents are dissolved in either glycerol or propylene glycol and are part of the solution composition.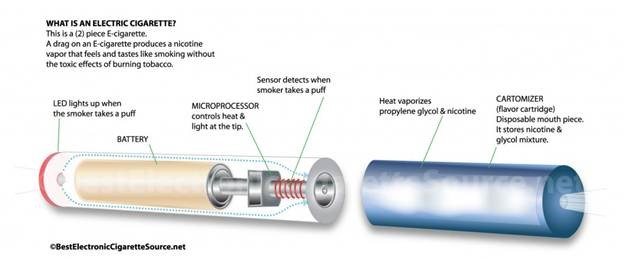 Nicotine is a highly addictive drug. This can lead to worsening addiction and toxicity. Each e-cigg varies greatly with the amount of nicotine being delivered. Users may be using the device in excess and getting more nicotine than they realize, leading to toxic doses. Other harmful chemicals and potential toxic metal particles are being created during the heating process and no data is available on the long term effects. The misconception about the smokeless system is luring many into this fad without realizing the dangers associated with other carcinogens. In 2009, analysis by the FDA detected diethylene glycol and tobacco-specific nitrosamines in two of the leading brands of electronic cigarettes.
Not all states have an age limit on purchase of these products, so they are being utilized by the younger generation. Even if states do have bans on sales to minors, the devices are available online and in kiosks. They are particularly appealing to this age group since they come in candy, coffee and fruit flavors. This is becoming an introduction for many youth to try other tobacco and nicotine containing products. With more e-ciggs being utilized, the number of toddlers getting the products and swallowing the liquid is also on the rise. The amount of nicotine consumed during accidental ingestions is not a known, leading to increases in potential toxicity. The Tennessee Poison Center has had a growing number of e-cigarette related exposures over the last few years.  In 2013 a total of 30 cases were reported. The distribution for e-cigarette and e-cigarette solution is shown below:
| | | | | |
| --- | --- | --- | --- | --- |
| Age Group | e-cigarette | Evaluated in hospital | e-cigarette solution | Evaluated in hospital |
| Pediatric | 20 | 3 | 5 | 2 |
| Adult | 4 | 2 | 1 | 0 |
| Unknown |   |   |   |   |
| Total | 24 | 5 | 6 | 2 |
Adverse events have been reported to the FDA in association with use of the e-ciggs. Hospitalization was required for pneumonia, congestive heart failure, disorientation, seizures and hypotension in these voluntary reports.
Information of efficacy and safety of electronic cigarettes is not available through the FDA. Currently, no e-ciggs are approved by the FDA for therapeutic use. For this reason they cannot be recommended as smoking cessation aids. Approved treatments for smokers and updated information can be obtained at www.fda.gov.
This question prepared by:  Renee Miller, Specialist in Poison Information
*Two readers submitted questions about last week's Question regarding the Ebola outbreak in Guinea. 
One reader asked: How is it transmitted?  Transmission is primarily from direct contact with blood or secretions from infected person.   Also, exposure to contaminated objects, such as needles, may transmit the virus.  In hospitals, it has spread to healthcare workers NOT wearing appropriate protective equipment (masks, gowns, gloves).  
Another reader asked:  What quarantine measures, if any, are being taken for this outbreak?  What government is responsible for facilitating a quarantine in this situation?  The government of Guinea is responsible for the outbreak within their borders.  Neighboring countries governments are dealing with it locally (Sierra Leone and Liberia).  The appropriate Ministries of Health are the specific agencies working on this.  They are being assisted by the World Health Organization, Medecins sans Frontieres (MOH, Doctors without Borders) are also helping with treatment and isolation centers.  In Liberia the International Red Cross, Pentecostal Mission Unlimited-Liberia and Samaritan's Purse are aiding the Ministry of Health.  CDC has sent a 5 person team to Guinea to assist the Guinea MOH and WHO.
So, what is the current situation?  According to the WHO and the Ministry of Health of Guinea the current total is 127 probable and suspect cases, including 83 deaths.  The case fatality ratio is up to 65% as of 1 April 2014.  Of the suspect cases, 35 are laboratory confirmed to have Ebola hemorrhagic fever, and includes 14 health care workers.  Also, cases have now been confirmed in the capital of Guinea, Conakry (11 cases).  Liberia has now reported 8 suspect cases which includes 5 deaths and 2 laboratory confirmed cases of EHF from people that have recently travelled to Guinea.  Additional suspect cases are under investigation in Liberia and Sierra Leone.
References:
www.cdc.gov/vhf/ebola/outbreaks/guinea
http://www.who.int/csr/don/2014_04_ebola/en/
The Ebola questions answered by:  John G. Benitez, MD, MPH  Medical Toxicologist
I am interested in any questions you would like answered in the "Question of the Week"  Please email me with any suggestion at donna.seger@vanderbilt.edu
Donna Seger, MD
Medical Director
Tennessee Poison Center
Poison Help Hotline: 1-800-222-1222