Message from the Chair
Welcome to the Department of Obstetrics and Gynecology at Vanderbilt University Medical Center (VUMC). In order to address the pressing needs of women in today's world, our Department is dedicated to excellence in clinical and population women's health care, to training the next generation of women's health care providers, and to answering important clinical and biologic questions in women's health.
Our faculty consists of more than 130 physicians, midwives and nurse practitioners housed in the clinical divisions of General Obstetrics and Gynecology, Maternal-Fetal Medicine (MFM), Minimally Invasive Gynecologic Surgery (MIGS), Gynecologic Oncology, Female Pelvic Medicine and Reconstructive Surgery (FPMRS) and Reproductive Endocrinology and Infertility. Focused sections and services in complex family planning, pediatric and adolescent gynecology, PCOS, maternal addiction, cardiovascular disease in pregnancy, lower genital tract diseases, transgender medicine, menopausal medicine, and community/global health complement our divisional structure. One Hundred Oaks and the Vanderbilt University Hospital serve as our main ambulatory and inpatient facilities, but we have grown to have nearly 10 ambulatory sites, a birthing center and five outreach practices.
Our Department is staunchly committed to our comprehensive medical education program at all levels, and to the training of the next generation of leaders in women's health. We are particularly proud of our medical student, resident education and fellowship training programs. They all remain among the most highly regarded and sought-after training opportunities in the country. Our residency training program accepts six new residents per year, and our graduates are not only well prepared to become leaders in outstanding private practices but also to become competitive for a wide range of fellowship training positions. We have active fellowships in MIGS, MFM, and FPMRS, and we are anticipating additional fellowships in Addictive Medicine and Gynecologic Oncology in the near future.
Our faculty are involved in a wide variety of clinical, translational and basic research programs. Opportunities are provided for students, residents and fellows to become involved in focused research projects. We have a Research Committee that evaluates research concepts for pilot funding, and the divisions of Translational Science and Quantitative Sciences provide valuable assistance to developing and performing cutting edge translational and clinical research.
I invite you to explore our department, and all we have to offer our patients, trainees, research community and faculty members. Dr. Lonnie Burnett and the chairs that followed him laid a foundation of clinical excellence, lifelong learning, and scientific curiosity. I hope like me you will be pleased with how the department has built upon this legacy. Thank you for coming to our website to learn more about us!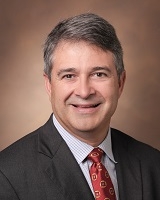 Ronald D. Alvarez, MD, MBA
Chairman and Clinical Service Chief
Betty and Lonnie S. Burnett Professor
---