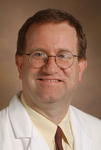 Walter Smalley, M.D., MPH
Department of Health Policy
Office Address
1030C MRB IV
2215 Garland Ave
Nashville
Tennessee
37232
Walter Smalley received a BS in Chemistry from Emory and Henry College (1981) before receiving his MD from the Duke University School of Medicine (1985). He was a medical resident and then Chief Medical Resident at the University of Virginia (1985-89) before coming to Vanderbilt as a Gastroenterology fellow (1990-91). After fellowship he joined the faculty and was the Ciba-Geigy Fellow in Pharmacoepidemiology in the Department of Preventive Medicine for two years during which time he worked with his mentors, Drs. Marie Griffin and Wayne Ray.
In 1996 he received the AGA Industry Research Scholar award which funded his subsequent work in GI-related pharmacoepidemiology research. Working with Drs. Griffin and Ray he has played an important role in studies of nonsteroidal anti-inflammatory drugs and the occurrence, costs, and prevention of adverse GI events. In addition he has played important roles in other studies of GI disease and drug therapy that utilize Medicaid administrative data.
Dr. Smalley was a member of the inaugural class of the Vanderbilt MPH program (1996). After this he taught as a small group leader in the Epidemiology-I course of the MPH and in the VUSM required second year course in Epidemiology and biostatistics. For 13 years he was on the faculty of the AGA/GRG annual GI Outcomes course. For five years (2008 – 2013) he was the director of the required medical second year course that included epidemiology and evidence based medicine. For over twenty years Dr. Smalley has run a weekly clinical epidemiology conference for the VU GI fellows. Dr. Smalley has won teaching awards at the Divisional (GI), Departmental (Medicine) and VUSM School-wide level.
Currently Dr. Smalley is Chief of GI at the Nashville VA where he is engaged in patient care and bedside clinical teaching on a daily basis. He is a member of the VA GI Field Advisory Committee. He is currently serving a three year term as a member of the AGA Clinical Practice Guidelines Committee – a group that is committed to producing high quality, evidence based guidelines.