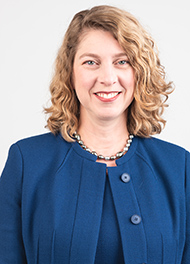 Melinda J. B. Buntin, Ph.D.
Bloomberg Distinguished Professor of Health Policy and Economics
Bloomberg School of Public Health, Department of Health Policy and Management
Office Address
Johns Hopkins University, Carey School of Business
Washington, D.C
District Of Columbia
20001
Health Economics, Health Care Spending, Medicare, Medicaid, Payment Reform, Insurance, State and Local Health Policy
Melinda Buntin joined Vanderbilt School of Medicine in 2013 as professor and founding chair of the Department of Health Policy, and in March 2018 was appointed the Mike Curb Chair for Health Policy.
Before coming to Vanderbilt, Dr. Buntin was a Director in the Health, Retirement and Long-Term Analysis Division at the Congressional Budget Office where she evaluated legislative proposals and directed studies related to health care financing, including reports on prescription drugs under Part D, beneficiaries dually eligible for Medicare and Medicaid, and care coordination demonstrations.  She also served as chief economist and founding director of the Office of Economics, Evaluation, and Modeling within the Office of the National Coordinator for Health IT. Prior to that, Dr. Buntin was deputy director of RAND Health's Economics, Financing, and Organization Program, director of Public Sector Initiatives for RAND Health, and co-director of the Bing Center for Health Economics.  Her research at RAND focused on insurance benefit design, health insurance markets, provider payment, and the care use and needs of the elderly. 
Dr. Buntin's work at Vanderbilt is focused on health care delivery and costs, with an emphasis on improving the value created by the health care system. She is also co-leading the Vanderbilt Policies 4 Action Research Hub, which is conducting research on ways to improve the health and education outcomes of low-income children. Dr. Buntin is an elected member of the National Academy of Medicine and of the National Academy of Social Insurance.  She is also the deputy editor of a new peer-reviewed health policy journal, JAMA Health Forum, and serves on the National Advisory Committee of the Agency for Healthcare Research and Quality (AHRQ) and the Board of the Harvard Medical Faculty Practice.
Dr. Buntin has an A.B. from Princeton University and a Ph.D. in Health Policy with a concentration in economics from Harvard.