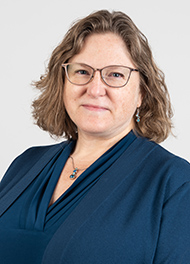 Christine C. Whitmore, Ph.D.
Research Associate Professor
Department of Health Policy
Office Address
2525 West End Ave
Suite 1275
Nashville
37203
Survey Methodology, Qualitative Methods, Program Evaluation
With a Ph.D. in Sociology from the Johns Hopkins University, Dr. Whitmore is social science and public health researcher with over 19 years of professional experience in project management, evaluation, and analysis in the fields of program evaluation, process evaluation, program improvement, primary data collection, health care services, metric development, mental health, resiliency, substance abuse, and emergency preparedness.
Dr. Whitmore is currently a Research Assistant Professor and Director of Operations in the Department of Health Policy at Vanderbilt University's School of Medicine. As such, she coordinates grants and development activities for faculty of the Department of Health Policy. She writes, updates, and edits grant proposal text concerning department infrastructure, programs, context and strategic initiatives.
Additionally, Dr. Whitmore is actively involved in the coordination and management of funded research projects within the department including the Mini‐Sentinel study sponsored by the Food and Drug Administration and the Centers for Disease Control and Prevention's Emerging Infection Program. As a principal research scientist at CNA, she managed the Evaluation of Process and Cost Issues portfolio for the Health Research and Policy (HRP) team's U.S. Navy's Bureau of Medicine and Surgery (BUMED) studies. In addition to directing her own studies, she oversaw multiple BUMED studies and in that role mentored junior team members, promoting a team atmosphere and effort. She is an experienced questionnaire designer for small and large scale surveys with qualitative experience in cognitive interviewing, focus groups, and key informant interviews. Additionally, she developed and conducted an internal seminar on facilitation and in that capacity was frequently called upon to advise, brainstorm with, and contribute to Centers for Disease Control and Prevention, Department of Health and Human Services, US Navy, US Marine Corps, and other studies.
Previously, Dr. Whitmore was the director of Access to Recovery (ATR) Activities for the Substance Abuse and Mental Health Services Administration Center for Substance Abuse Treatment's (CSAT) Performance Management Technical Assistance Coordinating Center. She provided management and oversight of a 20 member team responding to technical assistance requests from the client and 15 ATR grantees for an $11.5M Presidential initiative grant.