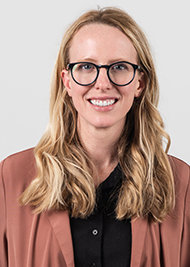 Office Address
2525 West End Ave
Suite 1275
Nashville
Tennessee
37203
Reproductive and Infant Health, Cost & Value, Health Policy Decision-Making, Infectious Disease
Ashley Leech is an Assistant Professor in the Department of Health Policy at the Vanderbilt University School of Medicine. Dr. Leech's research combines health services research and health economic methods to answer questions related to healthcare access, delivery, resource allocation, and use, and outcomes for reproductive-age women and their children. She is the Principal Investigator of an NIH/NIDA-funded career development award on Advancing Treatment Outcomes for Pregnant Women with Opioid Use Disorder where she is using decision science methodology to promote the coverage and adoption of high-value healthcare for pregnant women with opioid use disorder, a population that disproportionately faces major impediments to care.  
Dr. Leech completed her post-doctoral training in Health Economics at the Center for the Evaluation of Value and Risk in Health (CEVR) at Tufts University School of Medicine where she focused on decision science methodology and received her Ph.D. in Health Services Research at Boston University School of Public Health.
Recent & Highlighted Research
Leech AA, McNeer E, Roberts AW, Dusetzina SB, Lai P, Morgan JR, Patrick SW. Buprenorphine Out-of-Pocket Costs and Discontinuation in Privately Insured Adults With Opioid Use Disorder. JAMA Intern Med. 2023 August 07. doi:10.1001/jamainternmed.2023.2826.  PubMed PMID: 37548972 Citation in REDCap PMC10407758.
Boos EW, Horta M, Thompson I, Dusetzina SB, Leech AA. Trends in the Use of Mifepristone for Medical Management of Early Pregnancy Loss From 2016 to 2020. JAMA. 2023 July 21. doi:10.1001/jama.2023.13628.  PubMed PMID: 37477929 Citation in REDCap
Leech AA, McNeer E, Stein BD, Richards MR, McElroy T, Dupont WD, Patrick SW. County-level Factors and Treatment Access Among Insured Women With Opioid Use Disorder. Med Care. 2023 May 18. doi:10.1097/MLR.0000000000001867.  PubMed PMID: 37199507 Citation in REDCap
Baig K, Dusetzina SB, Kim DD, Leech AA. Medicare Part D Coverage of Antiobesity Medications - Challenges and Uncertainty Ahead. N Engl J Med. 2023 March 16; 388(11):961-963. doi:10.1056/NEJMp2300516.  PubMed PMID: 36912541 Citation in REDCap
Leech AA, Lin PJ, D'Cruz B, Parsons SK, Lavelle TA. Family Spillover Effects: Are Economic Evaluations Misrepresenting the Value of Healthcare Interventions to Society?. Appl Health Econ Health Policy. 2023 January; 21(1):5-10. doi:10.1007/s40258-022-00755-8.  PubMed PMID: 35997896 Citation in REDCap PMC9839569.