In a new study, Vanderbilt University Medical Center (VUMC) researchers have found an elevated risk of negative outcomes for women who are prescribed opioids for common doses after a Cesarean delivery.
The study published in the American Journal of Obstetrics & Gynecology MFM found that women who filled the most common opioid doses after cesarean delivery (prescriptions with morphine milligram equivalents (MME) of 150, 225 and 300) had an elevated risk of becoming a persistent opioid user, being diagnosed with an opioid use disorder or experiencing an overdose or death compared to women that did not fill an opioid.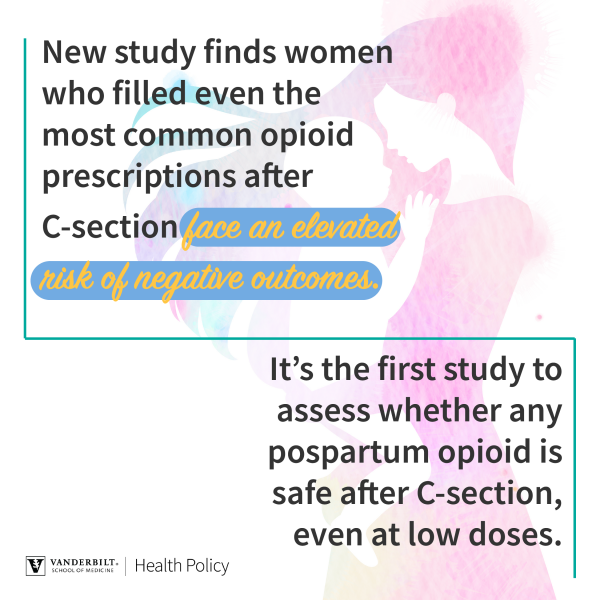 "Prior studies have mainly focused on whether a high dose is less safe than a low dose," said Andrew Wiese, PhD, assistant professor of Health Policy and lead author of the paper. "Until now, there has been little evidence to show whether any postpartum opioid, even low doses, after a C-section is safe. Additionally, compared to those that did not fill any postpartum opioid, we did not know the specific risk for patients receiving the most common opioid prescribing regimens."
The study did not find evidence that women prescribed opioids for very low daily doses and a low number of tablets (10 or fewer) had an increased risk compared to those that did not fill an opioid. "But because low-dose prescriptions were so rare in our population, it means we could not rule out the possibility of a small, but elevated risk for these prescriptions as well," Wiese said.
An elevated risk for negative outcomes was definitely observed in women who filled a total dose of greater than 100 MME, and similar to other studies, the risk of negative outcomes increased as the number of pills prescribed increased.
Wiese said the study could influence guidelines about opioid prescription after C-section deliveries.
"Reducing the routine prescribing of opioids at high doses and helping providers implement an individualized prescribing approach that reduces the amount of opioids prescribed in the outpatient setting could mitigate the risk of subsequent serious opioid-related events among women after Cesarean," he said.
Other authors on the study include Sarah Osmundson, MD, MS, associate professor of Obstetrics and Gynecology, and Carlos Grijalva, MD, MPH, professor of Health Policy.
The research was supported through the Building Interdisciplinary Research Careers in Women's Health program funded by grants from the National Institutes of Health. Grants from the National Institute on Drug Abuse and NIH National Institute on Aging also supported the study.