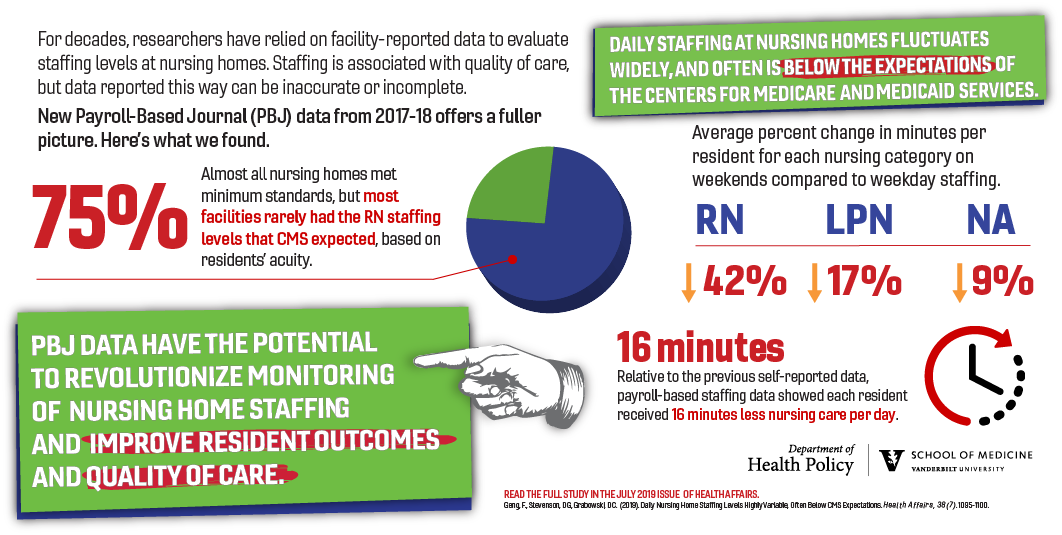 New research published in July's issue of Health Affairs finds wide variability in nurse staffing at U.S. nursing homes.
Across all types and sizes of facilities and all nurse levels, there is variations in the staffing of nursing home facilities. Among the primary findings in the study, in which David Stevenson, PhD, a professor of health policy at VUMC, is low weekend staffing and daily staffing levels that often fall well below the expectations of the Centers for Medicare and Medicaid Services (CMS), all of which can increase the risk of adverse events for residents. 
The study is among the first to use new payroll-based journal (PBJ) data that CMS began collecting in 2016 as part of requirements in the Affordable Care Act. Prior to 2016, staffing levels at nursing homes were self-reported and unaudited, making the data questionable and at risk for error or bias.
"Staffing in the nursing home is one of the most tangible and important elements to ensure high quality care," said study co-author David Stevenson, PhD, a Health Policy professor at Vanderbilt University Medical Center. "Anyone who has ever set foot in a nursing home knows how important it is to have sufficient staffing, something the research literature has affirmed again and again. As soon as these new data became available, researchers and journalists started investigating them, and the government now uses the PBJ data in its quality rating system."
Read the study in Health Affairs here: https://www.healthaffairs.org/doi/10.1377/hlthaff.2018.05322
Read more about the study here: https://www.eurekalert.org/pub_releases/2019-07/vumc-ndr070119.php