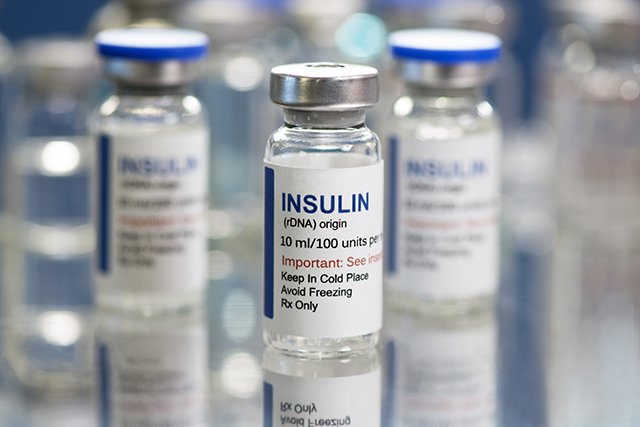 ​
Out-of-pocket cost on insulin for older adults on Medicare Part D could rise under two proposed drug pricing bills in the House and Senate according to a new article in the New England Journal of Medicine.
These bills (House Resolution 3, the Elijah E. Cummings Lower Drug Costs Now Act, sponsored by Rep. Frank Pallone (D-NJ) and Senate Resolution 2543, the Prescription Drug Pricing Reduction Act of 2019, sponsored by Sen. Chuck Grassley (R-IA)) propose similar changes to Medicare's prescription drug benefit ("Part D"), including streamlining the benefit by removing the Part D "coverage gap" and adding an out-of-pocket spending cap.
For Part D enrollees who use insulin, though, this change could mean they will pay more for their medications, according to Stacie Dusetzina, PhD, Ingram Associate Professor of Cancer Research in the Department of Health Policy at Vanderbilt University School of Medicine.
"In today's Part D benefit, we found that most plans offer insulin at a $46 copayment during the initial coverage phase, but prices go up when older adults transition into the coverage gap," Dusetzina said. In the coverage gap, nearly all insurance plans require patients pay 25% of the drug's price. Today, that is over $150 out-of-pocket for the average long-acting insulin fill."
For beneficiaries who have higher drug spending, they may find their medications are no longer affordable when they hit the coverage gap.
While the redesign efforts in Congress attempt to help older adults who need insulin, they are not specific about whether plans would need to use copayments or coinsurance in the new, simplified design. Dusetzina, who authored the paper with Assistant Professor Laura Keohane,  and fellow researchers at Harvard Medical School, calculated that Part D patients with no other drug expenditures who use long-acting insulin would pay $1,140.68 for 12 fills today.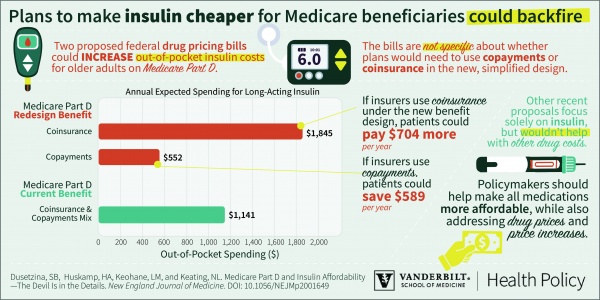 Under the redesign proposals, if insurers decide to use copayments under the streamlined benefit  beneficiaries could save more than $588 per year. However, if plans decide to use coinsurance instead, patients could pay nearly $705 more per year on insulin.
In addition to these comprehensive Part D proposals in the House and Senate, other recent proposals focus solely on insulin, capping out-of-pocket spending at $50 per fill or $35 per fill, including a new Part D demonstration program. While these measures would help to make insulin costs lower and more predictable, they wouldn't help with other drug costs for insulin users and they wouldn't help beneficiaries who don't use insulin.
The goal should be to find a solution that helps make all medications more affordable for all individuals, while also addressing drug prices and price increases, Dusetzina said.
Policymakers can ensure that insulin prices are lower for patients by requiring some insulin options to be offered under copayments in the redesigned benefit, she said. This would allow plans to leverage their bargaining power for obtaining lower prices and helps individuals get the drugs they need at a price they can afford.
This study was supported by grants from the Commonwealth Fund and The Leukemia & Lymphoma Society.