A new study published this month in the journal Health Affairs found new evidence that sexual minority (including gay/lesbian and bisexual) adults face more  financial barriers to health care than their heterosexual counterparts, regardless of insurance type, and even greater barriers when enrolled in high-deductible health plans.
The study, authored by Health Policy PhD candidate Nathaniel Tran, used a national survey of Americans 18-64 years old enrolled in private health insurance plans to explore the differences in financial barriers to care associated with insurance types.
Among the most noteworthy findings, Tran said, was a clear disparity between adults in high-deductible heath plans versus other private insurance. Compared to their straight counterparts, 8.3% more gay and lesbian plan enrollees reported they had no usual source of health care, and 5% more said they delayed medical care because of cost.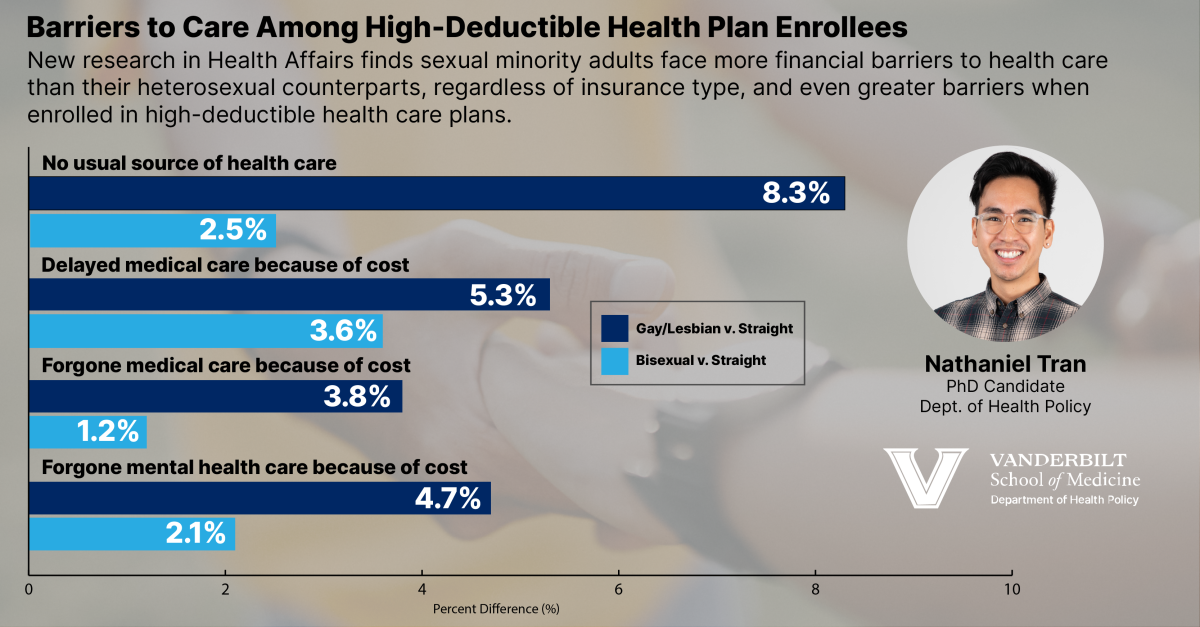 "High-deductible health plans allow patients to have lower premiums upfront in exchange for potentially more out-of-pocket expenses later. Unfortunately, we see people on high-deductible plans delaying or skipping care more often."
These findings suggest more research is necessary to understand why some people choose high-deductible plans, and better tools to help people select plans that match their health needs. 
Sexual minority adults enrolled in high-deductible plans reported significantly more delays in medical care and skipping mental health altogether, compared to heterosexual adults enrolled in high-deductible health plans.
Tran said the findings offer new knowledge and opportunities for insurers and policy makers to consider mechanisms to improve access and affordability for beneficiaries, which could improve uptake of preventive services, meaning overall health expenditures could be lowered over time.
"LGBTQ+ people on average experience poorer mental health than their heterosexual peers. If the way high-deductible health plans are designed makes sexual minority populations skip mental health care more due to cost, then these plans might make the inequality even worse.  "
In June 2022, the President Joe Biden issued an executive order to address equality for LGBTQ+ Americans. In response, the Substance Abuse and Mental Health Services Administration (SAMHSA) compiled a new report on the state of sexual minority population mental health needs and access to care.