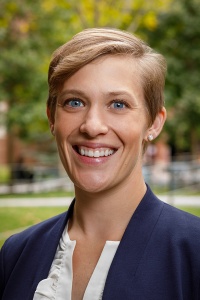 2525 West End Ave.
Suite 1275
Nashville
Tennessee
37203
Health reform, Medicaid, mental health, substance use disorder
Carrie Fry, PhD, is an assistant professor in the Department of Health Policy at Vanderbilt University School of Medicine. She prioritizes research that produces rigorous, timely, and relevant evidence to inform program and policy decisions. Her work focuses on the impact of health reform measures – particularly in the Medicaid program – on health and social well-being.  She also conducts methodological research that improves health services and health policy research. 
Her current research portfolio focuses on the intersection between health and social policy. She has ongoing research projects that evaluate coverage changes to the Medicaid program for people with mental health and substance use disorders using Medicaid claims data. Dr. Fry is the Tennessee PI for the Medicaid Outcomes Distributed Research Network (MODRN), a collaboration of 13 state/university partnerships geared at improving quality of care and outcomes for Medicaid enrollees with opioid use disorder. She's also working on projects that explore the role of the legal system in the production of health for people under community supervision and returning to the community from jail/prison.
Dr. Fry has been published in Health Affairs, Psychiatric Services, Addiction, and Health Services Research. Her work has been cited by national news outlets and policy briefs. Recently, she and her co-author, Dr. Laura Hatfield, were recognized for their methodological contributions via the inaugural James F. Burgess Methods Article of the Year award from HSR. Dr. Fry also serves on the editorial board of HSR.
She obtained her PhD from Harvard University's Interfaculty Initiative in Health Policy in 2020. Carrie also graduated from George Peabody College at Vanderbilt University in 2011 with a BS in Child Development and in 2013 with an MEd in Community Development and Action.