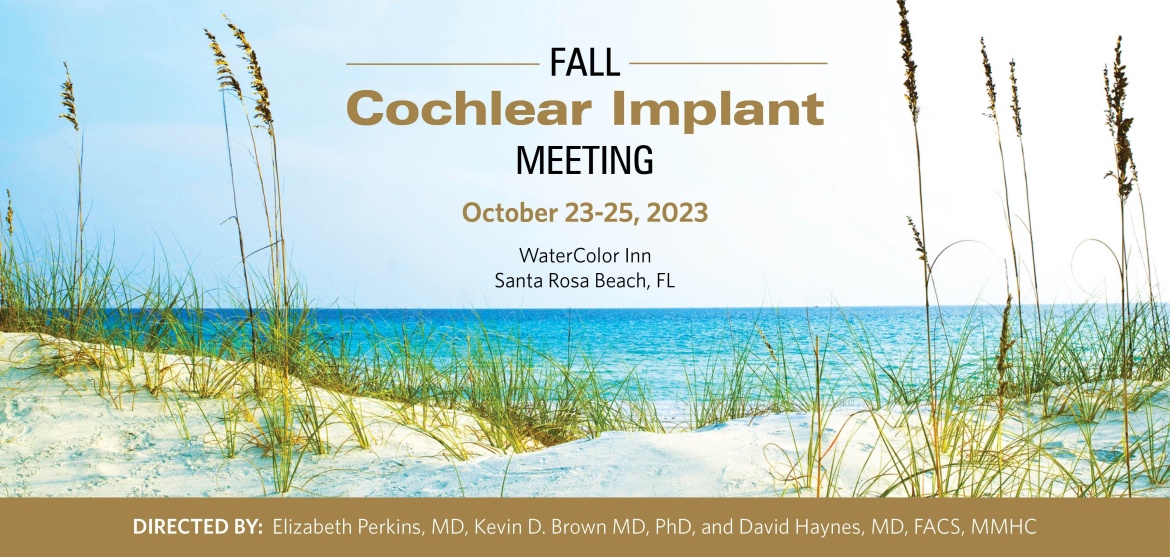 Fall Cochlear Implant Meeting
October 23-25, 2023
Santa Rosa Beach, Florida | The WaterColor Inn
Registration required on or before September 22, 2023
Panel and lecture-based meeting fostering clinically-focused cochlear implant peer-to-peer discussion.
CALL FOR ABSTRACT SUBMISSIONS
For the 2023 Fall CI Meeting, we are accepting abstract submissions to be considered for presentation at the meeting. All abstract submissions will be reviewed in a blinded format by our Program Committee. 
Abstracts MUST be submitted by June 16th, 2023 at midnight PST to be considered for review. Any submissions past that date will not be reviewed. Further, all submissions must adhere to the instructed format, or will be disqualified. The format guidelines can be found on the submission web page.
SUBMIT YOUR ABSTRACT HERE. 
ABSTRACT AWARDS
We are offering a total of four (4) awards in the amount of $500.00 each to support travel to the Fall CI Meeting. The awards will be designated as such: Two (2) Surgical Trainee Awards (awarded to residents and/or fellows) and two (2) Audiology Awards (Audiology students and Audiologists in practice and/or research labs). Instructions on how to apply for an award are on the submission web page. 
Please contact the course organizer, Meghan Franklin, at meghan.franklin@vumc.org with any questions. 
Pediatric and adult cochlear implant
Single-sided deafness and unilateral hearing loss
Electric acoustic stimulation vs. image-guided mapping
Health care disparities
Vestibular schwannoma
Expanding indications & criteria
Modified osia technique
Tinnitus suppression in cochlear implant
Bone-conduction implants and skull base tumors
Place-pitch importance
Optimizing binaural hearing
Imaging
Hearing preservation
and more!
This live activity is eligible for AMA PRA Category 1 CME credit. 

This live activity is eligible for ASHA accredited CE hours. 

Number of hours to be determined. 
We have a block of rooms reserved at the WaterColor Inn available until Saturday, September 23, 2023, or until there are no more rooms available.

Room rate: $399.00/night

To reserve: Please call 877-353-5239 and select extension 4, 'wedding and groups'. Please mention Vanderbilt University Medical Center Fall Cochlear Implant Meeting to be sure you're booked within the room block. Or email: group.reservations@stjoe.com.

Book anytime Monday through Friday from 8 AM CST until 5:00 PM CST.

 

*AS OF AUGUST 7, 2023 THE WATERCOLOR INN ROOM BLOCK IS AT CAPACITY*  Below are alternative accommodation options:

 

Hotel

4-star luxury resort 8 miles down the road from the meeting hotel, The WaterColor Inn. 

 

Rental Options

 
There are 2 best airport options for your travel to Santa Rosa Beach and The WaterColor Inn:

Destin-Fort Walton Beach Airport (VPS): 44 miles west of The WaterColor Inn, 1 hour drive time
Panama City Airport (ECP): 35 miles east of The WaterColor Inn, 45 minute drive time

For navigating travel throughout Santa Rosa Beach without a personal car, there are 3 shuttle companies recommended by St. Joe Hospitality:
Beach casual to business casual is acceptable.