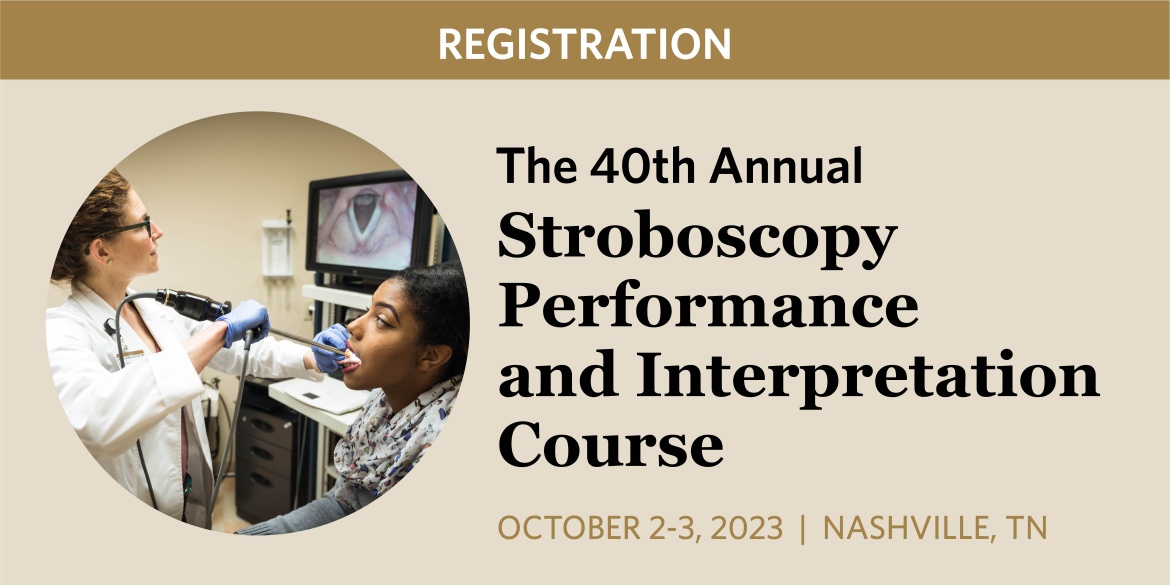 40th Annual LVES Strobe Course
Monday, October 2nd -- Tuesday, October 3rd, 2023
Vanderbilt University Medical Center Campus | Nashville, TN
This is not a PRA Category 1 CME-accredited course. Only ASHA CEUs offered. 
Questions?: Meghan Franklin: meghan.franklin@vumc.org
The Vanderbilt LVES Course is designated as a tutorial for Speech-Language Pathologists and Otolaryngologists to cultivate their understanding and performance of the laryngeal videostroboscopy (LVES) exam.

Principles of laryngeal function will be discussed so that the clinician will understand the diagnostic potential of stroboscopy.
Several hours of hands-on sessions will develop skills in the clinical performance of both rigid and flexible endoscopy.
Interpretation of stroboscopic parameters and perceptual analysis will be presented through didactic lectures and applied during instruction.
• Demonstrate the technique of performing LVES

• List the components of a comprehensive LVES exam

• Demonstrate emerging hands-on skill with rigid and flexible endoscopy

• Describe the interpretation of an LVES exam and subsequent management recommendations
Edie R. Hapner, PhD, CCC-SLP, ASHA Fellow

Edie R. Hapner is the Co-Director of the UAB Voice Center, Division Director of Hearing and Speech Department of Otolaryngology at the University of Alabama at Birmingham and was named the George W. Barber Jr. Foundation Endowed Professor of Otolaryngology. Dr Hapner has served both the American Speech Language and Hearing Association (ASHA)  and the American Academy of Otolaryngology (AAOHNS)  in many leadership capacities.  She received the honor of being named Fellow of ASHA and Associate Fellow of America Laryngological Association, and in 2022, she received the highest honors from the American Laryngological Association, the ALA Award.  Dr. Hapner has published and presented extensively on aging voice, dystonia and tremor, and adherence to voice therapy. She is the co-editor of Voice Therapy, Clinical Case Studies editions 4, 5 and now 6.  She developed the voice curriculum and serves as an instructor for Medbridge, Inc in addition to several ASHA and IALP online clinical instruction modules. Dr Hapner co-developer an evidence based therapy approach for the aging voice, Phonation Resistance Training Therapy, PhoRTE Voice Therapy that is widely used in the treatment of presbyphonia. Dr Hapner's passion is mentorship and she has mentored 21 consecutive speech pathology clinical fellows in voice and upper airway and countless students.
The course will be held at the Vanderbilt Bill Wilkerson Center on the Vanderbilt University Medical Center campus in Nashville, Tennessee.

The Vanderbilt Bill Wilkerson Center is located at:

1215 21st Ave. S., Medical Center East, South Tower, Conference Room 8380 A/B (8th Floor) Nashville, TN 37232.
This course is pending ASHA CEU accreditation (intermediate level; professional area). AMA PRA Category 1 CME is not offered.
The conference does not have a coordinating hotel block. Below are suggestions of near-by accommodations within short distance to Vanderbilt Medical Center campus and the Hillsboro Village neighborhood. 

(Please note: Prices and availability are not guaranteed).
Course registration fees are as follows:

Professional: $495.00

Student: $395.00