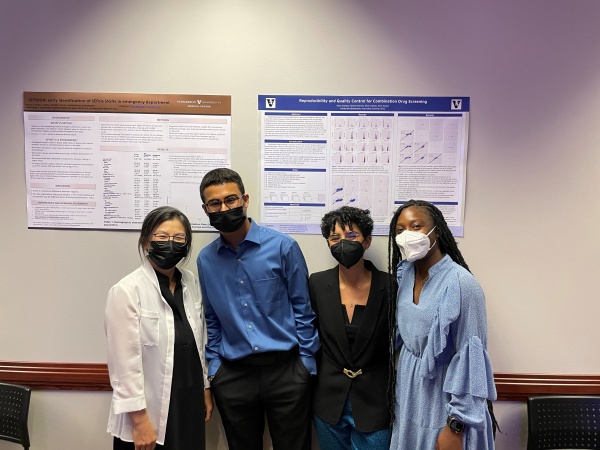 Left to right: Leena Choi, Akshat Vasisht, Mary Guirguis, Rajala Bean
On Friday, July 1, the Vanderbilt Biostatistics Summer Internship for Underrepresented Undergraduates program celebrated the conclusion of its inaugural season with presentations by its participants. The above photograph (by department chair Yu Shyr) shows them in front of scientific posters about the research they performed. Mary Guirguis and Akshat Vasisht investigated "Reproducibility and Quality Control for Combination Drug Screening" in collaboration with PhD student Elisa Yazdani and faculty mentor Amir Asiaee. Raja Bean focused on "SEPSIGN: early identification of SEPsis SIGNs in emergency department" in collaboration with faculty mentor Chris Lindsell and biostatistician Cassie Hennessy.
In addition to conducting research and attending classes on statistics and computing, the interns received professional development training from staff and faculty on topics such as writing CVs, resumes, and personal statements; creating statistical reports, posters, and oral presentations; and preparing for interviews. The program also featured lunches with department members. It was headed by Leena Choi, professor of biostatistics and vice chair of diversity and inclusion.
Bean expects to receive her bachelor's degree in health sciences in Spring 2023; in addition to her school and work commitments, she is active with Love You Like a Sister, Alpha Kappa Alpha, ThriftSmart (a Nashville store whose proceeds benefit African Leadership, the Belize Project, Mercy Community Healthcare, and New Hope Academy), and Nashville General Hospital's Food Tote Delivery program. Guirguis is a computer science student at Middle Tennessee State University; her experiences include working as a pharmacy technician at Polaris, programming a virtual reality horror project during MTSU's hackathon, and volunteering for Second Harvest. Vasisht, from Brentwood High School, is an aspiring software engineer, an American Red Cross ambassador, and a teen board member and volunteer with the John P. Holt Brentwood Library.
The internship information page will be updated when the application period for the 2023 program is about to open.