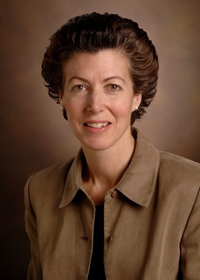 Tina V. Hartert, M.D., M.P.H.
Director, Center for Asthma and Environmental Sciences Research
Vice President for Translational Research
Lulu H. Owen Chair in Medicine
Center for Health Services Research
Suite 6100 MCE
Nashville
Tennessee
37232-8300
Asthma, epidemiology, primary disease prevention, pulmonary medicine
Tina Hartert, MD, MPH received her BA with honors from Brown University, her MD and MPH from Vanderbilt University School of Medicine. She completed her Internal Medicine residency and chief residency at Johns Hopkins University School of Medicine, and her Pulmonary and Critical Care Medicine fellowship at Vanderbilt. She is a member of the scientific and medical honors societies, Sigma Xi, Alpha Omega Alpha, and was elected into the American Society of Clinical Investigation (ASCI) and the Association of American Physicians (AAP). She has received awards for teaching and mentoring, and was the inaugural recipient of Research Mentoring Award in Translational Science.  She is currently a Professor of Medicine and the Director of the Center for Asthma Research, and serves the institution in the role of Assistant Vice President for Translational Science. She attends a weekly general pulmonary outpatient clinic at The Vanderbilt Clinic, and is an in-patient attending on the pulmonary and critical care services at Vanderbilt University Hospital.
 
Dr. Hartert's research focuses on asthma and allergic diseases, which are among the most common chronic diseases of both children and adults.  She firmly believes that the long-term solution to the asthma epidemic is primary and secondary disease prevention.  Thus, the major scientific programs of the Center for Asthma Research are to identify causal risk factors for asthma, understand their mechanism of action, and develop and test primary and secondary prevention strategies for asthma and allergic diseases.  The Center's current areas of focus for primary and secondary prevention include the role of early life respiratory tract infections, dietary factors, the microbiome, and medication exposures and utilization.  The Center is comprised of a group of highly collaborative and talented investigators, post-doctoral fellows, nurses, research assistants, and students who share a common goal to improve the health of people worldwide. Dr. Hartert has been continuously funded by NIH research grants since 1999, as well as by an NIH mid-career investigator award that protects her time for research mentoring.
Publications on
Research Information