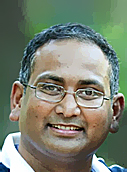 Suman Ranjan Das, Ph.D.
Research Associate Professor of Medicine
Research Associate Professor of Otolaryngology Head and Neck Surgery
A 2200 MCN
Nashville
Tennessee
37212
Virus-host microbiome interactions and viral diseases modeling
Research Information
Dr. Das is a basic science Associate Professor of Department Medicine at the Vanderbilt University Medical Center in the Division of Infectious Diseases. He is the Associate Director for Microbial Genetics, Center for Translational Immunology and Infectious Diseases and Associate Director for Viral Genetics, VANTAGE. Prior to joining Vanderbilt, Dr. Das was an Associate Professor in the Infectious Diseases Group at J. Craig Venter Institute. Using genomics approaches, his lab is trying to understand the underlying mechanisms that contribute to evolution of RNA viruses (i.e., Influenza, RSV, rotavirus EEEV, WNV, ZIKV and Enteroviruses). His lab is also interested in understanding virus-host and microbiome interactions, to identify if the host microbiota contributes to disease severity and long-term outcomes upon acute viral infections. Dr. Das received PhD in virology and cell biology from the International Center for Genetic Engineering and Biotechnology (ICGEB), New Delhi, India, where he studied molecular pathogenesis of HIV-1 subtype C Indian isolates. After a short postdoctoral fellowship at the University of Massachusetts Medical School in Worcester, MA, he joined the Laboratory of Viral Diseases, NIAID as a Fogarty International fellow, where his research was focused on understanding the antigenic evolution influenza A virus. He joined Emory Vaccine Center, Atlanta as Research Associate to study human B-cell response to influenza infection and vaccination.
Publications on