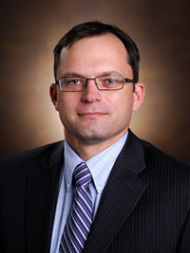 Sergey V. Novitskiy, M.D., Ph.D.
Research Associate Professor of Medicine
PRB 612
2220 Pierce Ave
Nashville
Tennessee
37232
TGF-beta, Cancer, Immunology, Adenosine
Dr. Sergey Novitskiy is an experienced researcher in tumor immunology with primary research interest in myeloid cells and TGFß signaling. The central focus of Dr. Novitskiy's investigations is to elucidate the mechanisms by which TGFß regulates the tumor microenvironment in ways that promote tumor growth, invasion, and metastasis. This work synthesizes his diverse training into a compelling new direction in cancer biology. Dr. Novitskiy obtained his M.D. degree (1999), with emphasis on biochemistry and molecular biology, and his Ph.D. (2002), in pathophysiology, from Siberian State Medical University (SSMU) in Tomsk, Russia. In September of 2002, he was appointed to Assistant and Teacher at that same institution in the Department of Biochemistry and Molecular Biology. Two years later, in September of 2004, he came to the United States as a postdoctoral fellow in the Division of Hematology-Oncology at Vanderbilt, where he worked under the direction of his mentor Dr. Mikhail Dikov for four years. Dr. Novitskiy then did additional postdoctoral training at the H. Lee Moffitt Cancer Center and Research Institution in Tampa Florida from 2008-2009 under the direction of Dr. Dmitry Gabrilovich. He returned to Vanderbilt in 2009 in the Department of Cancer Biology and worked with Dr. Harold Moses, the current acting chair of that department. In December 2011, Dr. Novitskiy was appointed to Research Assistant Professor of Cancer Biology at Vanderbilt and served in that position until he transferred to the Department of Medicine, Division of Allergy, Pulmonary, and Critical Care Medicine in April of 2016.
Publications on