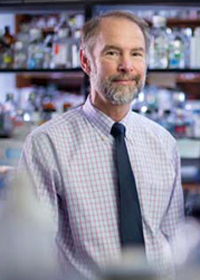 Raymond C. Harris, Jr., M.D.
Director, Division of Nephrology
Ann and Roscoe R. Robinson Chair in Nephrology
Professor of Molecular Physiology and Biophysics
1161 21st Avenue South
S-3223 Medical Center North
Nashville
Tennessee
37232-2372
 Regulation of renal epithelial cell growth and function during normal physiologic responses and after acute or chronic injury
Raymond Harris, MD is a graduate of Yale College and Emory University Medical School. He undertook his residency training at University of California, San Francisco and his nephrology fellowship at Brigham and Women's Hospital. He has been a faculty member at Vanderbilt University School of Medicine since 1986 and is currently the Ann and Roscoe R. Robinson Professor of Medicine and Molecular Physiology and Biophysics and Chief of the Division of Nephrology and Hypertension. He is also the Director of the Vanderbilt Center for Kidney Diseases. He has served on numerous grant review committees, including NIH Pathobiology A, NIH Pathobiology of Kidney Disease (Chair), VA Merit Review Board (Chair) and NKF Basic Science Fellowship Committee (Chair). He served as an Associate Editor of Journal of the American Society of Nephrology from 2004-2007 and as the Deputy Editor from 2007-2010. He was the President of the American Society of Nephrology in 2016 and is the current past president. 
Research Information
Research in the Harris lab has focused on understanding mechanisms underlying the pathogenesis of both acute and chronic kidney disease, and specifically in understanding the role of COX-2 and prostaglandins in the kidney, in studies of the underlying mechanisms of diabetic nephropathy and in determining mechanisms of growth and repair in response to acute and chronic injury. In recent studies, the lab has been investigating the potential role of innate and acquired immunity in the kidney in mediating recovery from acute injury, development of fibrosis and in salt-sensitive hypertension.
Publications on