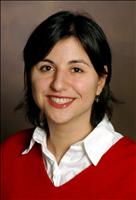 Natasha B. Halasa M.D., M.P.H.
Associate Professor of Pediatrics
D-7235 MCN
1161 21st Avenue South
Nashville
Tennessee
37232-2581
Pediatric infectious diseases, respiratory infections in specialized populations
Research Description
Dr. Halasa's initial studies focused on antibiotic prescribing practices in different types of outpatient settings. She documented important trends in the types of antibiotics prescribed and discovered substantial differences in prescribing practices in community and university based settings. She also noted differences in prescribing practices based on race. These findings resulted in first-author publications in the Pediatric Infectious Diseases Journal and the Journal of Pediatrics and formed the basis of her M.P.H. thesis research.
Dr. Halasa's more recent work has focused on immunization of neonates with pertussis vaccine. Dr. Halasa became interested in this problem while caring for several infants at Children's Hospital with fatal pertussis. Her observations led to a report in Pediatrics and an editorial in Journal of Pediatrics. These experiences prompted the hypothesis that pertussis immunization in the immediate newborn period might diminish the risk of fatal pertussis in young infants. To attempt to confer earlier protection against pertussis in infants, Dr. Halasa designed the proposed study of infant immunization. 
This study investigated the administration DTaP dose at 2-14 days of life in addition to the recommended vaccine schedule, to determine safety and immunogenicity of the vaccine in this age group. This was a pilot study and enrolled a total of 50 subjects, with 25 subjects receiving a birth dose and 25 subjects receiving the recommended schedule of vaccination. These infants were followed-up until 23 months of age. Dr. Halasa and her team discovered that the birth dose group had lower titers to all four of the pertussis antigens at 7 months of age and three out of four pertussis antigens at 18 months of age compared to the control group. This study has been completed and was accepted for publication in Journal of Pediatrics. Over the past years, Dr. Halasa has presented this work in poster presentations at Pediatric Infectious Diseases meeting in Memphis, the Pediatric Academic Society in Washington, D.C.,the Interscience Conference on Antimicrobial Agents and Chemotherapy in San Francisco, the Pertussis meeting in Paris, and as oral presentations at ICAAC in Washington, D.C., Pertussis meeting in Atlanta, Georgia, and Neonatal Meeting in Madrid, Spain in which she also received a young investigator award.    
Publications on