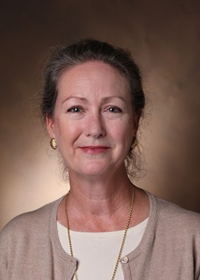 Leslie J. Crofford, M.D.
Director, Division of Rheumatology & Immunology
Professor of Pathology, Microbiology and Immunology
Wilson Family Chair in Medicine
Medical Center North
1161 21st Avenue South
Room / Suite
Suite T-3113
Nashville
Tennessee
37232-2681
Innate and acquired immunity in inflammatory arthritis, myositis, scleroderma, fibromyalgia, pain
Research Information
The goal of our research is to improve the outcome of patients with rheumatoid arthritis (RA) and other rheumatic diseases.  The focus of our work is the role of prostaglandin E2 (PGE­2) and other bioactive lipids in innate and acquired immunity relevant to the development and symptoms of RA.  PG are essential for regulation of innate immunity, but are also key to shaping the T-cell phenotype and humoral immune response.   PG also impact the production of reactive oxygen and nitrogen species that have their impact on extra-articular tissues, such as cardiovascular tissues and skeletal muscle.   
Non-steroidal anti-inflammatory drugs (NSAIDs) that inhibit the cyclooxygenase (COX) enzyme central to PG biosynthesis have proved themselves as useful inhibitors of the symptoms of inflammation, including pain, swelling, and stiffness.  However, these COX inhibitors also have mechanism-based adverse effects that significantly impact their safety in many populations.  More targeted approaches to altering the bioactive lipid profile may provide therapies that are quite different from NSAIDs.  Our research will allow us to understand the biology of PG biosynthetic enzymes such as microsomal PGE synthase-1 in autoimmune inflammation.  Through these studies, we will create a foundation by which to understand the potential benefits and risks of new therapeutic strategies for patients with RA and other rheumatic diseases.
Publications on