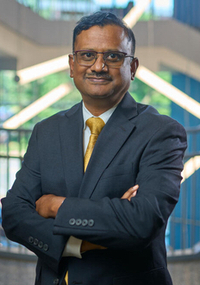 Krishnendu Roy, Ph.D.
Bruce and Bridgitt Evans Dean of Engineering University Distinguished Professor
Professor of Biomedical Engineering
Professor of Chemical and Biomolecular Engineering
Dr. Krishnendu (Krish) Roy received his B. Tech. from the Indian Institute of Technology (IIT), Kharagpur, his M.S. from Boston University, and his Ph.D. in Biomedical Engineering from Johns Hopkins University. After two years in industry, Dr. Roy joined the Biomedical Engineering Faculty at The University of Texas at Austin in 2002, eventually becoming Professor and Fellow of the Cockrell Chair in Engineering Excellence. In 2013 he moved to Georgia Tech, where he was most recently a Regents Professor and the Robert A. Milton Endowed Chair in Biomedical Engineering. He also served as Director of three centers—the NSF Engineering Research Center (ERC) for Cell Manufacturing Technologies (CMaT), The Marcus Center for Therapeutic Cell Characterization and Manufacturing (MC3M), and the Center for ImmunoEngineering. In August 2023, Dr. Roy joined Vanderbilt University as the Bruce and Bridgitt Evans Dean of Engineering and a University Distinguished Professor in Biomedical Engineering, and Pathology, Microbiology, and Immunology, with a secondary appointment in Chemical and Biomolecular Engineering.

In recognition of his seminal contributions, Dr. Roy has been elected Fellow of the American Institute for Medical and Biological Engineering (AIMBE), the Biomedical Engineering Society (BMES), and the Controlled Release Society (CRS). He has received numerous awards and honors, including the Clemson Award for Basic Research from the Society for Biomaterials, the Industry Growth Award from Georgia Bio, Young Investigator Awards from the Controlled Release Society (CRS) and The Society for Biomaterials (SFB), the NSF CAREER award, etc. He has also received the Best Teacher Award from the Biomedical Engineering Students at UT-Austin and the Best Advisor Award from Bioengineering students at Georgia Tech. Dr. Roy serves on the Editorial Boards of the Journal of Controlled Release, the Journal of Immunology and Regenerative Medicine, and the Journal of Advanced Biomanufacturing and Bioprocessing. He also serves as a board member of the Standards Coordinating Body for Regenerative Medicine and several other academic and industry advisory boards. Starting in August 2023, he co-chairs the Forum on Regenerative Medicine of the National Academies of Science, Engineering, and Medicine (NASEM).
Research Information
The overall goal of our research endeavor is the development of new biomaterial-based strategies for: (a) the design and development of novel delivery systems for vaccines and immunotherapies against cancer and infectious diseases, (b) engineering complex microfluidics-based vascularized microenvironments to study the immune-homeostasis and immune-pathology in various organs and diseases, and (c) developing novel engineering tools and high throughput methods to manufacture therapeutic immune cells.