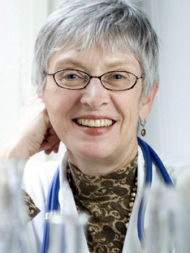 Kathryn M. Edwards, M.D.
Sarah H. Sell and Cornelius Vanderbilt Chair
Scientific Director, Vanderbilt Vaccine Research Program
1161 21st Avenue South
Nashville
Tennessee
37232-2581
Evaluation of the safety and effectiveness of vaccines
Kathryn Edwards, MD, is a professor of pediatrics in the division of infectious diseases at Vanderbilt University School of Medicine, where she is also vice-chair for clinical research.
Dr. Edwards has spent much of her career evaluating the safety and effectiveness of vaccines. She received funding from the National Institutes of Health (NIH) to evaluate influenza vaccine in 3,000 children and adults immunized each year for five years. She also received two grants from the Centers for Disease Control and Prevention (CDC) to investigate the safety and effectiveness of routine vaccination in population-based studies in Nashville's Davidson County.
In 1990, Dr. Edwards coordinated and served as principal investigator of an NIH-funded, multi-center study of 13 highly purified acellular pertussis vaccines in over 2,000 infants. She has also received additional NIH funding to evaluate the immunogenicity and safety of various Haemophilus influenzae type b vaccines, Streptococcus pneumoniae vaccines and vaccines containing multiple antigens. Most recently, she has been investigating avian influenza vaccine candidates.
Dr. Edwards recently completed studies on the prevention of S. pneumoniae nasopharyngeal colonization in children receiving pneumococcal vaccines. Dr. Edwards continues to serve on numerous Data Safety and Monitoring Boards and has been a frequent advisor for the NIH and CDC on vaccine policy.
Dr. Edwards is a member of the Infectious Diseases Society of America and has been active in the leadership of the Pediatric Infectious Diseases Society.
Dr. Edwards received her medical degree from the University of Iowa College of Medicine.
Research Information
Dr. Edwards is an internationally-recognized expert in vaccinology, with numerous publications in the fields of pertussis, pneumococcus, and influenza. A member of the National Academy of Medicine, Dr. Edwards is Principal Investigator of the CDC-funded Clinical Immunization Safety Assessment (CISA) Network.
Dr. Edwards's work focuses on the evaluation of vaccines for the prevention of infectious diseases in adults and children. She has conducted large efficacy trials of influenza vaccine and has coordinated multicenter trials of H. influenza, type b, B. pertussis, Streptococcus pneumoniae and vaccina vaccines. She is currently studying dose sparing strategies for influenza vaccine and avian Influenza vaccines. She also conducts active population-based surveillance to monitor the impact of new vaccines on disease burden.
Publications on