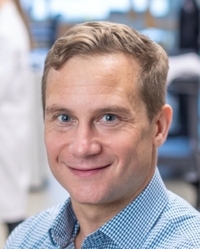 John Tanner Wilson, Ph.D.
Associate Professor of Chemical and Biomolecular Engineering
Associate Professor of Biomedical Engineering
Associate Professor of Pathology, Microbiology and Immunology
212-C Olin Hall
VU Mailbox: PMB 351604
Nashville
Tennessee
37235-1604
Polymer science, nanotechnology, immunobiology, colloid and surface engineering, cell engineering, and drug delivery,
Dr. Wilson completed his undergraduate studies at Oregon State University in 2002, where he trained in a number of academic and industrial research labs, including the Oregon Medical Laser Center and Bayer Pharmaceuticals. He went on to pursue his doctoral studies at the Georgia Institute of Technology, under the mentorship of Dr. Elliot L. Chaikof, M.D., Ph.D. (currently at Harvard) in the Department of Surgery at Emory University and the Department of Biomedical Engineering at Georgia Tech. Dr. Wilson subsequently joined the laboratory of Patrick Stayton in the Department of Bioengineering at the University of Washington for a postdoctoral fellowship in the area of molecularly engineered materials for the delivery of vaccines and immunotherapeutics. Dr. Wilson was awarded an Irvington Institute-Cancer Research Institute Fellowship under the co-mentorship of Dr. Mary (Nora) Disis, M.D., head of the Tumor Vaccine Group at the University of Washington. Founded upon cutting-edge and multidisciplinary research in the areas of biomaterials, molecular engineering, cell-based therapy, drug delivery and immunotherapy, the Laboratory for Immunomodulatory Biomaterials was launched in the Department of Chemical and Biomolecular Engineering at Vanderbilt University in January 2014. 
Research Information
The immune system underlies the pathophysiology of nearly every disease, yet therapies that modulate immunity for clinical benefit have yet to reach their full potential. Our laboratory works at the interface of materials science and immunobiology to innovate solutions for immunotherapy. We are guided by the principle that the immune system must dictate therapeutic design requirements and we turn to nature for inspiration to engineer highly modular and tunable materials to accomodate these criteria. By bringing together expertise in colloid and surface engineering, advanced polymerization techniques, cell engineering, and drug delivery, we are developing molecularly engineered materials that specifically target and tightly regulate the delivery of immunomodulator drugs to the organs, cells, and intracellular pathways of the immune system. In doing so, we are making substantial process in a number of arenas.
Publications on