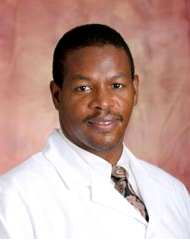 Donald J. Alcendor, Ph.D.
Associate Professor of Cancer Biology
Adjunct Associate Professor of Pathology, Microbiology and Immunology
Vanderbilt University School of Medicine
Meharry Medical College
1005 Dr. D.B. Todd, Jr., Blvd.
Nashville
Tennessee
37208
Dysregulation of genes induced by Kaposi's sarcoma virus for novel therapeutic
Dr. Alcendor received his B.S., in Microbiology from Southern University in Baton Rouge, Louisiana; M.S. in Bacteriology from Louisiana, State University in Baton, Rouge and completed his doctoral studies in Molecular Virology at the University of California at Davis. Dr. Alcendor completed his post-graduate studies at the NIH and Johns Hopkins University, in Baltimore Maryland in departments of Molecular Virology and Viral Oncology respectively. He is a Cytomegalovirus Expert for the FDA, Division of Vaccine Injury and Compensation Program for the Department of Health and Human Services in Rockville, Maryland. He is a consultant and voting member on the FDA Antiviral Drug Advisory Committee. He is also a committee member on the Independent Research Evaluation and Decision Panel (REDP) for the AIDS Cancer and Specimen Resource of the NCI-AIDS Malignancy Program. He is a Brain-on-chip investigator in partnership with Vanderbilt and the Cleveland Clinic and an external associate member of the Vanderbilt VIIBRE consortium with an Adjunct faculty appointment in Cancer Biology at Vanderbilt. His research interest includes Cytomegalovirus trafficking of the central nervous system (CNS) with a focus on the Blood-brain and retinal barriers and the neuropathological implications for both ocular and CMV induced congenital disease.
Research Information
Antiretroviral therapy (ART) has reduced the incidence of Kaposi's sarcoma (KS) in developed western countries. However, 95% of the estimated 40 to 60 million people infected with HIV have no access to these drugs. HIV/AIDS-associated KS is still a significant problem in the U.S. among individuals who are noncompliant due to toxicities and those who progress to AIDS without receiving drug therapy. KS is cause by Kaposi's sarcoma-associated herpesvirus (KSHV) and is characterized as an angioproliferative tumor of vascular endothelial cells and produces rare B cell lymphoproliferative diseases in the form of pleural effusion lymphomas (PEL) and some forms of Multicentric Castleman's Disease (MCD). Only 1-5% of cells in KS lesions actively support lytic replication of KSHV, and it is clear that cellular factors must interact with viral factors in the process of oncogenesis and tumor progression. Identifying novel host-factor determinants that contribute to KS pathology is essential for developing prognostic markers for tumor progression and metastasis as well as novel therapeutics for the treatment of KS. 

Our studies thus far have shown that galectin-3, fibulin-2 and fibulin-5 are dysregulated genes in KSHV infected dermal microvascular endothelial cells (DMVEC). All of these genes are implicated in malignancy and most likely contribute to KS pathogenesis. Thus, we are interested in evaluating galectin-3, fibulin-2, and fibulin-5 in order to determine their usefulness as diagnostic markers for KS tumor progression/metastasis, and whether they would serve as a target(s) for a novel treatment strategy. 

Our hypothesis is that downregulation of galectin-3, fibulin-2 and fibulin-5 contributes to KS pathogenesis and tumorigenesis, and that modulation of their expression in the tumor microenvironment could serve to either alter virus replication and/or reduce tumor angiogenesis, progression and metastasis. Thus reconstitution or over-expression of these genes in KS tissue and AIDS-associated pleural effusion lymphomas (PELs) could alter and/or reduce viral pathogenesis associated with KS and hence serve as molecular targets for therapeutic interventions. 
Publications on