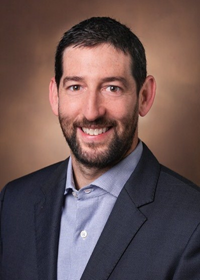 David R. Vago, Ph.D.
Research Associate Professor, Department of Psychology
Core Faculty, Vanderbilt Brain Institute
Research Associate, Department of Psychiatry, Harvard Medical School
Wilson Hall, Department of Psychology
Neuropsychiatry, depression, PTSD, anxiety, stress, psychopathology, neuroimaging, meditation, mindfulness, integrative medicine, learning, memory, affective neuroscience, cognitive neuroscience, contemplative neuroscience
David Vago is Research Associate Professor of Psychology at Vanderbilt University where he directs the Contemplative Neuroscience & Mind-Body Research Laboratory. He also maintains an appointment as a research associate in the department of Psychiatry, Brigham and Women's Hospital, Harvard Medical School. Dr. Vago is the former research director of the Osher Center for Integrative Medicine at Vanderbilt University Medical Center and is currently the Research Lead for the wholistic well-being company, RoundGlass. Dr. Vago is a Mind and life fellow, an advisory board member for many integrative health and wellness initiatives, and a founding member of the International Society for Contemplative Research (ISCR).
Research Information
Dr. Vago has over 15 years experience studying the basic neurobiological mechanisms supporting Mind-Body practices and the effects on mental health and well-being.
Through mixed methods of neuroimaging, predictive computational modeling, neuroendocrine biomarker identification, cognitive-behavioral and first-person phenomenological analyses, Dr. Vago helps facilitate a multi-pronged research program in basic science, clinical trials, intervention development, education, and innovation. He has been a recipient of several research grants from the NIH and small foundations, has published over 50 peer-reviewed journal articles, chapters, and science abstracts. His research has been covered by mainstream news outlets such as the Huffington Post, Boston Globe, Newsweek, Scientific American, and NPR, among others. As a thought leader in the field of integrative health and mindfulness research, Dr. Vago has given over 150 keynote and invited lectures, oral presentations, and grand rounds.
A number of research initiatives that are ongoing, include Mapping the Meditative Mind, in which the Dr. Vago has partnered with contemporary meditation teachers and scholars to investigate psychosocial and neurobiological mechanisms supporting states of meditation across the spectrum of formal meditative expertise. Another initiative aims to identify mechanisms of engagement, identify predictors for clinical outcomes, and optimize mindfulness-based treatment interventions. For more info – see Research Studies
Publications on