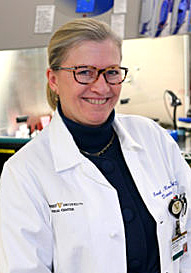 Carol Ann Rauch, M.D., Ph.D., F.C.A.P.
Medical Director, Virology Laboratory
Medical Director, Rapid Response Laboratory
Diagnostic & Therapeutics Course Director, Vanderbilt University School of Medicine
Associate Professor, Department of Pathology, Microbiology and Immunology
Vanderbilt University School of Medicine
1301 Medical Center Drive, Room 4605 TVC
Nashville
Tennessee
37232-5310
Biochemistry, Cellular, and Molecular Biology, Bioterrorism Preparedness
Rauch attended Dartmouth to study biochemistry. She competed on the varsity lacrosse and equestrian teams, and undergraduate internships took her to the National Institutes of Health in Bethesda, Maryland, as well as to the research lab of Nobel laureate Baruch Samuel Blumberg at Fox Chase Cancer Center in Philadelphia.
After college she attended Johns Hopkins to concurrently earn a doctorate in biochemistry and a medical degree, through the National Institutes of Health Medical Scientists Training Program.
For her doctorate she studied trypanosome parasites and DNA topology. She then completed a laboratory medicine residency at Yale, staying on in New Haven for a research fellowship in medical microbiology.
Since completion of her training, Dr. Rauch has served  as the Medical Director of Microbiology at Baystate Medical Center in Springfield Massachusetts. She has also served as the Chief of the Division of Clinical Pathology, where she oversees the clinical laboratories for a system of three hospitals and a reference laboratory. Her professional interests include Bioterrorism Preparedness (she serves on the Governor's Bioterrorism Coordinating Council as well as many statewide and local planning committees). She loves teaching and enjoys the challenge of communicating with individuals of varied backgrounds.
Research Description
Rauch joined Vanderbilt's department of Pathology, Microbiology and Immunology in 2011. An associate professor, she leads the School of Medicine's Diagnosis and Therapeutics course, a core element of the curriculum. She's currently medical director of two clinical labs — the Virology Lab, located on campus, and the Rapid Response Lab, a high-volume satellite operation that supports outpatient care at Vanderbilt Health One Hundred Oaks. Rauch has also acted as interim chief of the Division of Laboratory Medicine.
Publications on