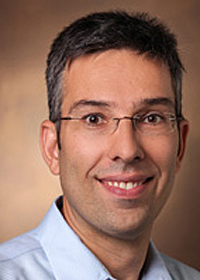 Antonis Rokas, Ph.D.
Cornelius Vanderbilt Chair, Biological Sciences
Professor, Biological Sciences
Associate Professor, Biomedical Informatics
20450 Biological Sciences
VU Station B, 35-1634
Nashville
Tennessee
37235
Phylogenomics, Evolutionary Functional Genomics, Evolution of Fungal Metabolism, Evolution of Human Pregnancy, Tree of Life
Antonis Rokas, PhD received his undergraduate degree in Biology from the University of Crete, Greece and his PhD from Edinburgh University in Scotland. Prior to joining Vanderbilt in the summer of 2007, he was a postdoctoral fellow at the University of Wisconsin-Madison and a research scientist at the Broad Institute. Research in his lab focuses on the study of the DNA record to gain insight into the patterns and processes of evolution. Through a combination of computational and experimental approaches, his current research aims to understand the evolution of human pregnancy, the molecular foundations of the fungal lifestyle, and the reconstruction of the tree of life. His discoveries have been reported in the world's premier journals, receiving thousands of citations, and been recognized by many awards, including an endowed chair (2013), a Chancellor's Award for Research (2011), an NSF CAREER award (2009) and a Searle Scholarship (2008). He serves as an Associate Editor in several journals including Evolution, Medicine & Public Health, PLoS ONE, BMC Microbiology, and G3: Genes, Genomes, Genetics.
Research Information
Dr. Rokas' research combines computational and experimental approaches to investigate the factors influencing phylogenetic accuracy and their usefulness in obtaining more robust phylogenies, the molecular origins of human pregnancy, and the molecular foundations of the fungal lifestyle. 
Publications on