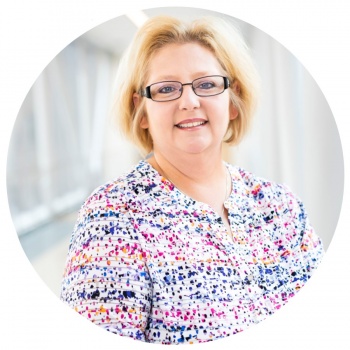 Hello and welcome to our unit!
I'm Beverly Lee, MSN, RN, Manager of the VAD & Heart Transplant unit, also known as 7 MCE. We are located on the 7th floor of Medical Center East at Vanderbilt University Hospital (VUH).

The environment on our unit is fast-paced, collaborative, and a high-acuity area that incorporates state-of-the-art advanced heart interventions. 

We care for adult patients ranging in age from 18 years and older who require ventricular assist devices (VADs), heart transplants, total artificial hearts, pre-and post-coronary artery bypass and valve surgeries, advanced heart failure treatments, and pre-and post-procedures. We also manage those patients with chest pain, arrhythmia, and myocardial infarctions. Procedures include cardiac catheterization, radiofrequency ablation, cardioversions, percutaneous coronary intervention, and implantation of pacemakers or automatic cardiac defibrillators.
Our patients are unique because we are the only unit outside of VUMC's Cardiovascular ICU that is trained to care for VAD and Total Artificial Heart patients. At this time, we are the only stepdown unit trained to perform peritoneal dialysis.
  
One of the perks of working on our unit is our team is frequently recognized for the value we place on teamwork. Other advantages of working on VAD & Heart Transplant include the personal connection we develop with our patients and families and the collaboration with our physician and nurse practitioner colleagues.   

Our nurses are successful because they have a high commitment to quality care, ongoing educational opportunities, the development of advanced critical thinking skills, and continuous support from their colleagues and the Leadership Team. Every staff member has a voice and is involved in decision-making on the unit through the Shared Governance process.  

We orient new nurses by providing eight to nine weeks of orientation with a dedicated preceptor and close collaboration with our unit Nursing Education Specialist and Clinical Staff Leaders. Your preferred learning style will be identified during orientation and your training will be tailored to your specific educational needs.  
We encourage professional growth. 
If your goal is to build a career and develop expertise in cutting-edge cardiac nursing, the VAD & Heart Transplant unit will help with this by providing excellent training with high acuity patients and incorporating innovative methods to help you reach your professional goals. The Leadership Team fully supports continuing education and professional development.
If you have any questions about my unit, please email me at beverly.lee@vumc.org or visit Work at Vanderbilt University Medical Center to explore open nursing positions.

Unit/Area Index