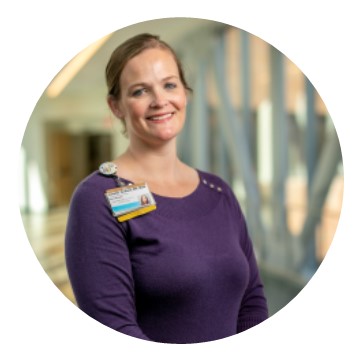 Hello and welcome to our unit!
I'm Jennifer Graham, MSN, RN, manager of the Trauma Intensive Care Unit, also known as TICU or 10N.  We are located on the 10th floor of Vanderbilt University Hospital (VUH).
The environment on our unit is fast-paced, dynamic, and unpredictable at times.
We care for adult patients ranging in age from 16 to 105 who are being treated for traumatic injuries from motor vehicle crashes, violent crimes, falls, and a plethora of other accidents.  Our patients are unique because no one ever plans to be on our unit.  No one wakes up saying "I think I will go to the trauma unit today."

Our patients and families are typically highly stressed and highly emotional, and more often than not, in a state of shock.
One of the perks of working on our unit is the amazing teamwork we have as a unit.  Another perk is the experience and exposure to diverse patients and situations.

Our nurses are successful because they are assertive, passionate, and excellent critical thinkers.
We orient new nurses to our unit by providing an extensive 10-week orientation to the step-down and ICU sides of the unit. 
We encourage professional growth.
If your career goal is to gain valuable experience in a fast-paced, dynamic environment, the Trauma Intensive Care Unit can help with this by providing experience with critical Level I patients from all over the state and surrounding areas.
If you have any questions about our unit, please visit Work at Vanderbilt University Medical Center to explore open nursing positions.
 

Unit/Area Index