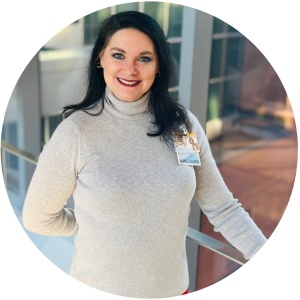 Hello and welcome to our unit!
I'm Paige Barnes, MSN, RN, CEN, CPPS, NEA-BC, manager of the Transplant & Surgical Care Unit, also known as 6 MCE.  We are located on the 6th floor of Medical Center East at Vanderbilt University Hospital (VUH).
The environment on our unit is fast-paced, values teamwork, and contributes to learning while building a strong foundation in nursing skills.
We care for adult patients ranging in age from 18 and older who are being treated for end-stage liver disease, end-stage kidney disease, surgical weight loss, peritoneal dialysis, and transplant patients (pre-transplant, transplant, post-transplant) of the kidney, liver, or pancreas.  

Our patients are unique because of their diverse specialized diagnoses and needs.
One of the perks of working on our unit is the opportunity to work with a team of nurses who pride themselves on teamwork and consider our unit a family.
Our nurses are successful because they have a good relationship with our patients, their families, and the providers who direct their care. They have the motivation, drive, and commitment to providing safe patient care all while being a part of a specialty such as transplant. 
We orient new nurses to our unit by pairing them with a preceptor who is committed to their success by providing an individualized 9-week orientation followed by a mentoring week.  
We encourage professional growth.
If your career goal is to gain strong clinical experiences and become a well-prepared nurse, the Transplant & Surgical Care Unit can help with this by providing the knowledge and skills to support and reach that goal.
If you have any questions about our unit, please email me at paige.barnes@vumc.org@vumc.org or visit Work at Vanderbilt University Medical Center to explore open nursing positions.
 

Unit/Area Index