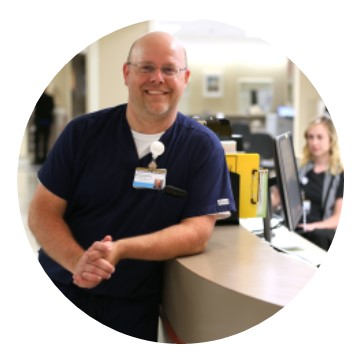 Hello and welcome to our unit! 
I'm Aaron Hirsch, MSN, RN, manager of the Surgical Stepdown unit, also known as 9 North Surgical Stepdown.  We are located on the 9th floor of Vanderbilt University Hospital (VUH).
The environment on our unit is fast-paced and focused on providing acute assessment and intervention for patients requiring frequent observation. This helps our staff to develop critical thinking skills while also building a solid foundation in nursing skills.
We care for adult patients ranging in age from 18 to 100 who are being treated for many different disease processes that require surgical intervention and frequent monitoring.  We are dedicated to serving a diverse patient population such as thoracic surgery, surgical oncology, and emergency general surgery.

Our patients are unique because there is such a variety of surgical teams and interventions represented in a unit that provides cardiac monitoring, frequent assessment, and a strong learning environment for our staff and our patients.
One of the perks of our unit is working with a team of experienced nurses who support our patients and each other in an academic medical center where our providers are willing to listen and teach.
Our nurses are successful because they have the motivation and commitment to providing safe patient care in a progressive care environment.  They understand that it is sometimes the small things that make a big difference to our patients, and they know that a smile and listening can have a positive impact. 
We orient new nurses to our unit by giving them the time and attention needed to foster growth and confidence by partnering them with preceptors who are committed to their success.  A typical orientation for new nurses is 6-8 weeks with a preceptor as they learn how to apply their nursing skills in a critical care unit.
We encourage professional growth. 
If your career goal includes becoming a knowledgeable and well-prepared nurse, 9 North Surgical Stepdown can help with this by giving you the knowledge and support to reach that goal, and build the skills needed to further your career should you desire to do so.
If you have any questions about my unit, please visit Work at Vanderbilt University Medical Center to explore open nursing positions.



Unit/Area Index