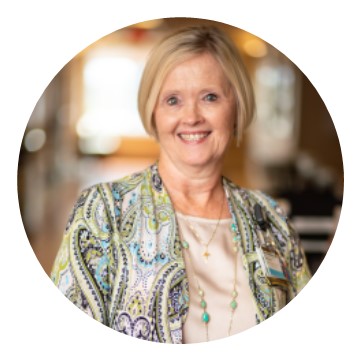 Hello and welcome to our unit!
I'm June McGhee, BSN, RN, manager of the Surgical Intensive Care Unit, also known as the SICU.  We are located on the 9th floor of the Critical Care Tower at Vanderbilt University  Hospital (VUH).
The environment on our unit is fast-paced, serves a diverse patient population, and utilizes a multidisciplinary approach in which the nurse is a key player.
We care for adult patients ranging in age 18 and older who are being treated for sepsis, recovering from a liver transplant, large abdominal surgeries, vascular surgeries, and many more illnesses.  Our patients are unique because we are often treating complex multi-organ failures.  

Our patients are unique because their diagnoses vary greatly and provide non-stop learning opportunities.

One of the perks of working on our unit is the excellent culture of teamwork.  Staff is always collaborating to help out with busy admissions or patient assignments and to find creative solutions to unit problems. We encourage staff to participate in Shared Governance to actively improve our unit culture and the quality of care we provide. There are many paths to growth in the SICU. 
Our nurses are successful because they are team-oriented, quick-thinking, and compassionate.
We orient new nurses to our unit by providing an 8-10 week orientation with a primary preceptor. Orientees meet with the educator weekly to ensure their success.  
We encourage professional growth. 
If your career goal is nursing leadership or advanced clinical practice, the Surgical Intensive Care Unit can help by giving you experience with the highest acuity of surgical patients and an incredible opportunity to provide excellent care for our patients.
If you have any questions about my unit, please visit Work at Vanderbilt University Medical Center to explore open nursing positions.
 

Unit/Area Index