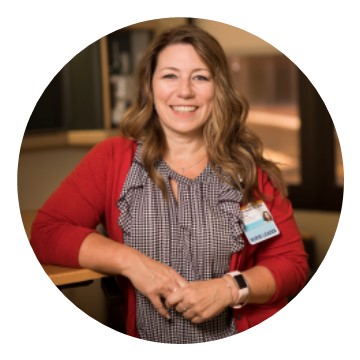 Hello and welcome to our unit!
I'm Donnie Polk, MSN, RN, manager of the Ortho/Spine unit, also known as 6 South Spine.  We are located on the 6th floor of Vanderbilt University Hospital (VUH).
The environment on our unit is welcoming, fast-paced, and a place where we value teamwork.
We care for adult patients ranging in age from young adults to geriatrics who are being treated for elective spinal surgeries.  

Our patients are unique because they have a variety of spinal disorders with several teams working in collaboration to provide high-quality care throughout their stay usually lasting from 24 hours to 3-4 days.
One of the perks of working on our unit is the ability to work with dedicated, knowledgeable staff who take pride and value the difference they make on a daily basis.
Our nurses are successful because they are compassionate, knowledgeable, and dedicated.
We orient new nurses to our unit by providing a six-week unit-specific orientation with dedicated preceptors committed to the success of the new hire.
We encourage professional growth. 
If your career goal is to become knowledgeable in your practice while truly making a difference in someone's life, the  Ortho/Spine unit can help with this by giving you the support, confidence, and knowledge to achieve your goals.
If you have any questions about my unit, please email me at donnie.polk@vumc.org or visit Work at Vanderbilt University Medical Center to explore open nursing positions.
 

Unit/Area Index