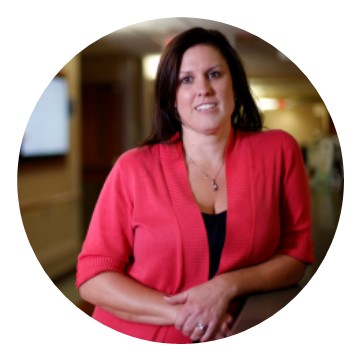 Hello and welcome to my unit!
I'm Misty Ashby, MSN, RN, SCRN, manager of the Neurology/Neurosurgery Intensive Care Unit, also known as the Neuro ICU.  We are located on the 6th floor of the Critical Care Tower at Vanderbilt University Hospital (VUH).
The environment on our unit is fast-paced, supportive, and at times, unpredictable.
We care for adult patients ranging in age from 18 and older who are being treated for a variety of neurological disorders, including acute ischemic and hemorrhagic stroke, subdural and epidural hematoma, subarachnoid hemorrhage, seizures, Guillain-Barré syndrome, myasthenia gravis exacerbation, meningitis and encephalitis, spinal cord injury, cerebrovascular intervention, and brain and spinal tumor resection.  

Our patients are unique because of their specialized neurological needs.
One of the perks of working on my unit is the opportunity to work with some of the best nurses at Vanderbilt, as well as state-of-the-art equipment and technology.
Our nurses are successful because they have strong neurological assessment skills, critical thinking skills, and a sense of teamwork.
We orient new nurses to our unit by providing a ten- to twelve-week unit-specific orientation with dedicated preceptors. 
We encourage professional growth. 
If your career goal is to gain strong clinical experience caring for critically ill patients, the Neurology/Neurosurgery Intensive Care Unit can help with this by exposing you to patients with complex clinical conditions.
If you have any questions about my unit, please email me at misty.ashby@vumc.org or visit Work at Vanderbilt University Medical Center to explore open nursing positions.
 

Unit/Area Index