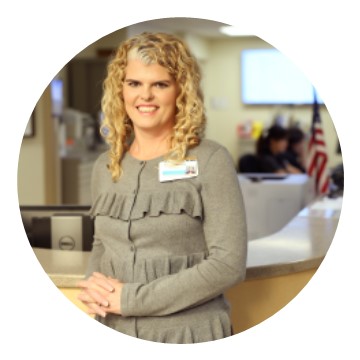 Hello and welcome to our unit!
I'm Shelly Padgett, MSN, RN, manager of the Cardiovascular Progressive Care unit, also known as 5 South.  We are located on the 5th floor of Vanderbilt University Adult Hospital (VUAH).
The environment on our unit is supported by a nursing model of care that is centered around the patient and family.  The nursing unit is designed to offer safe, efficient, and collaborative practice.
We care for adult patients ranging in age 18 years and older who are being treated for a variety of cardiac conditions including recovery from coronary artery bypass surgery, valve repair and replacement surgery, heart failure, heart transplant, myocardial infarction, heart arrhythmias, and cardiac post-procedural care.

Our patients are unique as they may be supported with ventilators and pulmonary artery catheters, requiring advanced nursing knowledge.
One of the perks of working on our unit is the expert nursing knowledge that exists on both day and night shifts.  The commitment to each other and the display of teamwork are unmatched.
Our nurses are successful because they participate in Shared Governance, engage in opportunities for advancement, and are supported through an environment that encourages continuing education.
We orient new nurses to our unit by providing eight weeks of unit orientation, caring for patients with a dedicated preceptor.  Clinical time is supported by specialty classes focused on the types of patients and equipment we manage. 
We encourage professional growth.
If your career goal is to develop expert levels of knowledge in cardiac nursing or to prepare for patients with higher levels of acuity, the Cardiovascular Progressive Care Unit is a great place to launch your career.
If you have any questions about my unit, please email me at shelly.padgett@vumc.org or visit Work at Vanderbilt University Medical Center to explore open nursing positions.

Unit/Area Index