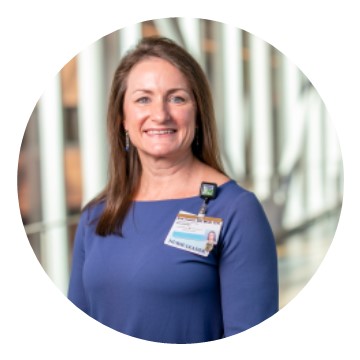 Hello and welcome to our unit!
I'm Kim Carter, MSN, RN, CEN, manager of the Cardiovascular ICU unit, also known as CVICU.  We are located on the 5th floor of Vanderbilt University Hospital (VUH).
The environment on our unit is fast-paced, challenging, and team-oriented.
We care for adult patients ranging in age from 18 to 118 who are being treated for cardiovascular conditions.  

Our patients are unique because there are so many advanced therapies and devices that could potentially be utilized in their care and our nurses become experts in using them all.
One of the perks of working on our unit is the incredible teamwork needed every day.  We work hard but when a patient goes home due to the extraordinary care we provided, it's extremely rewarding.
Our nurses are successful because they have a desire to learn, strong critical thinking skills, and persistence.
We orient new nurses to our unit by providing a 9-10 week orientation with a dedicated preceptor team complemented by a proven program of critical care courses. 
We encourage professional growth. 
If your career goal is to be an expert clinician practicing at the top of your scope, CVICU can help with this by providing a wealth of experience using the most cutting-edge medicine available in cardiovascular care today.
If you have any questions about our unit, please email me at kimberly.carter@vumc.org or visit Work at Vanderbilt University Medical Center to explore open nursing positions.
 

Unit/Area Index