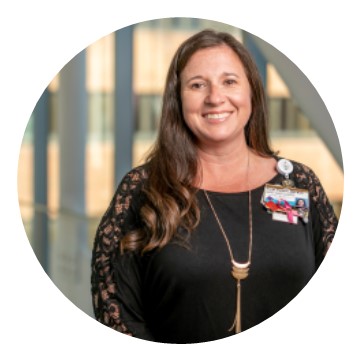 Hello and welcome to our unit!
I'm Sarah Dawson, MSN, RN, manager of the Cardiology Stepdown unit, also known as 8 South.  We are located on the 8th floor at Vanderbilt University Adult Hospital (VUAH).
The environment on our unit is fast-paced and characterized by phenomenal teamwork.
We care for adult patients aged 18 years and older who are being treated for various cardiovascular disorders such as aneurysms and amputations, as well as patients with congestive heart failure, myocardial infarction, arrhythmias, VT ablations, atrial fibrillation cardioversions, chest pain, pre and post-op catheterizations, and pre and post-op cardiothoracic surgeries.  Our cardiac patients' diagnoses range from STEMIs, CHF exacerbations, pacemaker exchanges, and transplant workups. Vascular surgeries include pre-and post-operative care for Coronary Artery Bypass Grafts. 8 South is comprised of 24 patient beds dedicated to cardiac stepdown patients; however medical stepdown patients are also incorporated into our patient population.  All 24 patient beds have bedside monitors.  Staff is alerted to significant changes in patients' hemodynamic status and arrhythmias by monitor techs.  The unit's nursing station is also equipped with cardiac monitors that allow staff the ability to assess and detect abnormal arrhythmias for early intervention.

One of the perks of working on my unit is that the nursing leadership team encourages individual growth while fostering a team-centered environment. Our goal as leaders is to provide coaching that allows for personal growth and advancement along with safe, quality patient care. Our unit is also supported by a nursing education specialist, who offers ongoing learning opportunities and ensures we are up to date on evidence-based practice.

Our nurses are successful because they are dedicated to fostering and coaching new nurses to succeed in their unit orientation sessions to become fully functioning Vanderbilt nurses.  New nurses are given 7-9 weeks of unit-based orientation with frequent check-ins with the leadership team to ensure their success during their formative weeks. We provide them with the resources that they need to be successful such as classes (targeted teaching, didactic, estar training, etc.), clinical training, shadowing, and simulations. 
We encourage professional growth.
If your career goal is to experience and be successful in the cardiovascular nursing field, then the 8 South Cardiology Stepdown unit can help with this. 8 South will provide you with the opportunity and resources to take care of the cardiovascular population and increase your knowledge and skill set. 
If you have any questions about my unit, please email me at sarah.b.dawson@vumc.org or visit Work at Vanderbilt University Medical Center to explore open nursing positions.
 

Unit/Area Index