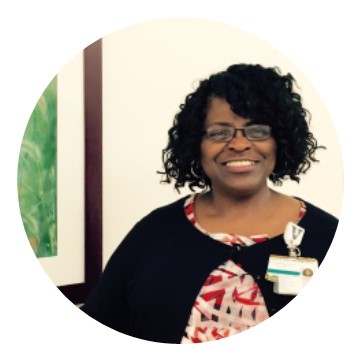 Hello and welcome to our unit!
I'm Janice Sisco, BSN, MHA, RN, manager of 4 Round Wing Inpatient Medicine unit, also known as 4RW.  We are located on the 4th floor of Medical Center North (MCN) at Vanderbilt University Hospital (VUH). 

As a unit, we value hard work, teamwork, and the delivery of patient-centered, high-quality, cost-effective nursing care for all patients and their families, while still finding ways to have fun. 

We care for patients 18 years and older who are being treated for a variety of medical conditions. 

Our patients are unique because of what they teach us about the importance of the delivery of compassionate care to our patients and families.

One of the perks of working on our unit is the opportunity to work with a great group of peers and the utilization of patient and family-centered care to meet the individual needs of our patients as a team. 

Our nurses are dynamic, work well together, and foster a feeling of family. We have a balance of Nurse Residents and seasoned staff to help nurture growth. 
We orient new nurses to our unit by providing a four to six -week unit specific orientation with dedicated preceptors, nursing education specialists, and an engaged leadership team. 

WE ENCOURAGE PROFESSIONAL GROWTH.
If your career goal is to advance to a step-down or ICU, our unit will provide you with the necessary foundation to take steps toward achieving your goals. 4RW can help enhance your organizational, patient assessment, and time management skills. 
If you have questions about my unit please email me at janice.sisco@vumc.org or visit Work at Vanderbilt University Medical Center to explore open nursing positions. 
 

Unit/Area Index