For some people, Halloween isn't frightful just because of the scary movies, spooky costumes, and heart-stopping pranks. For generations, the thought of "poisoned Halloween candy" has brought fear and anxiety to many. As one may suspect, the medical literature is void of information on Halloween candy, which leaves us to turn to news outlets and other publications to seek out the best available information. Each year many claims are made of possibly tainted Halloween candies, but many of these cases are just falsified, either by the child or the parent, most likely for attention or money. Sometimes there is a more sinister act at hand, such as murders attempting to hide behind the cloak of Halloween.
Joel Best, a sociology and criminal justice professor, has researched reports of Halloween candy tampering in the U.S. dating back to the 1950s, and has published his findings, and states, "I have yet to find of a report of an incident where a child was killed or seriously injured by a contaminated treat picked up in the course of trick-or-treating."1
Below are a few cases that often get cited for being Halloween-related poisonings2, 3:
- In 1959 a California dentist handed out laxative-laced candies to hundreds of children, 30 of which became mildly ill, with no serious injuries or fatalities.
- In 1964 a woman in New York was arrested for handing out potentially toxic items to children, such as ant poison, scrubbing pads, and dog treats; no children were poisoned or harmed during this event. The woman told the children that these objects were dangerous and later stated it was all meant to be a joke.
- On Halloween night 1974 a man in Texas gave five children, one of which was his son, Pixie Stix that were laced with cyanide. His son ingested the candy and later died, for which the man was charged with murder, but none of the other children consumed the tainted candy. Notably, this act was directed specifically at his own son, who the man had recently taken out a large life insurance policy on.
- In 2000 a 49-year-old man was arrested after giving four teenagers candy bars that were later found to contain needles, which injured one of the teens but did not require any medical attention. The man was arrested but deemed unfit to stand trial and committed to a psychiatric facility.
- In 2017 an 11-year-old from Ontario underwent surgery after eating a piece of chocolate that contained a metal object, but it was unconfirmed if the object was put into the candy intentionally or if it was a manufacturing mishap.
There are a few published articles regarding screening of Halloween candy for foreign objects, and the conclusions are clear—this is not a necessary process. After 2 years of screening candies with over 1,000 x-rays in local hospitals near Reno, NV, researchers found zero cases of identified foreign bodies with x-ray screenings; therefore, this cannot be recommended as routine.4, 5
There is not enough evidence in the literature to make a conclusion one way or another on what the risk for toxin ingestion might be in Halloween candy, but it would seem that the majority of cases are not random Halloween happenings, but a mix of urban legend, hoaxes, and intentional harm that the perpetrator masks behind Halloween.  
Risks that we are very aware of, however, lies in candies or edibles that are known to contain illicit substances such as THC, fentanyl, or heroin, and candies that resemble medications6, 7. Edibles containing drugs or medications pose a serious threat, especially to children. Please see our previous Question of the Week from 05-06-2019: https://www.vumc.org/poisoncenter/53917. Note that many of these edibles are designed to look exactly like well-known candies or foods, so it is important to stay aware of what your child is consuming.
Without going into much depth, it is important to note that many medications can mimic candy and we should all be diligent about making sure medications are secured.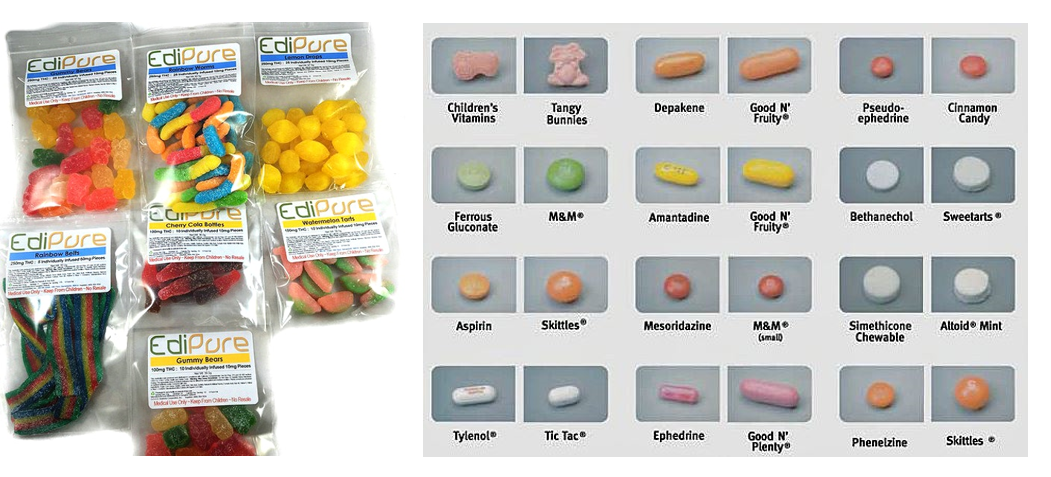 Additionally, it is known that drunk driving, motor vehicle collisions, and pedestrian injuries all occur at higher rates on Halloween. A recent article published in JAMA found a 43% higher risk for pedestrian deaths on Halloween night when compared with other nights of the weeks surrounding Halloween8.
Unique to Halloween 2020 is the added stress and safety concern surrounding COVID-19. While no direct guidance exists, the CDC has instructed there is no need to wipe down food packaging for COVID-19 prevention9. The CDC omits any guidance on consuming Halloween candy, but does say that you should, of course, wash your hands with soap and water for 20 seconds prior to any food ingestion. Additionally, they give guidance to remain socially distanced at least 6 feet apart and to wear a cloth mask if you choose to go trick or treating.10
In conclusion, not much evidence exists for routine screening of Halloween candy by medical providers. Most of the claims of Halloween candy tampering appear to be urban legend, but it can still happen. It may be reasonable to avoid consuming any candy that is not in its original packaging or that has obvious defects in the packaging or wrapper. Far more common and more serious are the risk for drug or medication ingestion, pedestrian injury, and the COVID-19 pandemic. We must remain vigilant as not only medical providers, but also as a community.
Happy Halloween.
References:
1.         Woodbury R. Nearly all Halloween candy tampering reports are hoaxes, expert says. Updated 10/31/2016. Accessed 10/27/2020, https://www.cbc.ca/news/canada/nova-scotia/halloween-candy-tampering-hoaxes-joel-best-1.3818409
2.         Miller A. Trick or truth? The real story behind Halloween candy tampering. Updated 10/31/2019. Accessed 10/26/2020,
3.         Blakemore E. How Americans Became Convinced Their Halloween Candy was Poisoned. Updated 10/15/2020. Accessed 10/26/2020, https://www.history.com/news/how-americans-became-convinced-their-halloween-candy-was-poisoned
4.         Calvanese J. Should we X-ray Halloween candy? AJR Am J Roentgenol. Oct 1986;147(4):854-5. doi:10.2214/ajr.147.4.854
5.         Calvanese J. Should we X-ray Halloween candy? Revisited. Vet Hum Toxicol. Apr 1988;30(2):165-9.
6.         Richards JR, Smith NE, Moulin AK. Unintentional Cannabis Ingestion in Children: A Systematic Review. J Pediatr. Nov 2017;190:142-152. doi:10.1016/j.jpeds.2017.07.005
7.         DeRienz RT, Baker DD, Kelly NE, et al. Child Fatalities Due to Heroin/Fentanyl Exposure: What the Case History Missed. J Anal Toxicol. Oct 1 2018;42(8):581-585. doi:10.1093/jat/bky052
8.         Staples JA, Yip C, Redelmeier DA. Pedestrian Fatalities Associated With Halloween in the United States. JAMA Pediatrics. 2019;173(1):101-103. doi:10.1001/jamapediatrics.2018.4052
9.         Greenwood M. Still wiping down your grocery store purchases? Coronavirus risk is 'exceedingly small,' experts say. USA Today. Updated 09/08/2020. Accessed 10/26/2020, https://www.usatoday.com/story/news/nation/2020/09/08/do-you-still-need-wipe-down-grocery-store-takeout-boxes/5743240002/
10.       Trick or Treating and Other Halloween Activities. Centers for Disease Control and Prevention. Updated 10/09/2020. Accessed 10/26/2020, 2020. https://www.cdc.gov/coronavirus/2019-ncov/daily-life-coping/holidays/halloween.html
Prepared by: Nick Watkins, MD - Pediatric Emergency Medicine Fellow, LeBonheur Children's Hospital
A different take on a question of the week. Hope you enjoy the Halloween background. ds
I am interested in any questions you would like answered in the Question of the Week.  Please email me with any suggestion at donna.seger@vumc.org.
Donna Seger, MD
Executive Director
Tennessee Poison Center
Poison Help Hotline: 1-800-222-1222